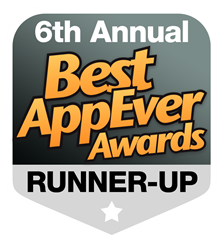 Waterford, CT (PRWEB) March 28, 2014
Business apps, Project Planning Pro and Risk Register+ by i2e Consulting won the 6th Best App Ever Award - Best Business App category. The results were announced at Macworld Expo, a congregation for mobile devices, applications and games in San Francisco, United States. Best App Ever Awards is an annual event that honors the best mobile apps and not just the best-selling.
Project Planning Pro is a project management, task management and resource management app available on all platforms. Risk Register+ on the other hand is a tool to assess and manage the project risks. Often referred as the risk log, it tracks information like risk probability, impact, counter measures and risk owners.
Project Planning Pro won the 2nd place while Risk Register+ won the 3rd place in the Best Business app category for iOS, coming second only to the popular Evernote app. The apps were competing with heavy weights like LinkedIn, Square Register, Roambi and more. Project Planning Pro has won this award second year in a row proving its caliber and popularity among its more than 300,000 global users.
Winners for the awards were chosen based on the number of votes each app received in its category.
Download Project Planning Pro - http://planningproapp.com/
Download Risk Register+ - http://www.riskregisterapp.com/
About i2e Consulting:
I2e Consulting is a technology company having offices in Mumbai (India) and Waterford, Connecticut (United States). It is dedicated towards the development of mobile apps, web solutions and other associated products for the Project management domain. The company has created more than 30 large and small business solutions for clients all over the world while offering consulting services in the Project management domain. The company aims to achieve 100% customer satisfaction with the help of its superior software systems. This prestigious award has again proven the i2e Consulting's expertise in the development of world class mobile apps.