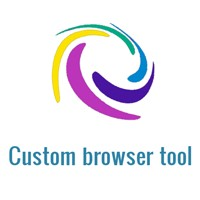 Strontium places the developer in complete control allowing easy integration of pre-existing extensions.
Alexandria, VA (PRWEB) March 30, 2014
BestToolBars, a leading browser toolbar and add on development agency, has urged add-on developers to consider incorporating their own Chromium based custom browser after announcing the launch of a new service today.
BestToolBars notes that some browser plugins can encounter compatibility issues with new versions of standard browsers for a range of reasons. There are also concerns that individual browser security policies and restrictions can impact on the functionality and compatibility, which can threaten the user experience and restrict usage while 3rd party plug ins can also cause problems and conflicts.
To solve these problems, it has created a new tool called Strontium, which allows developers to quickly build their own custom browsers based on Chromium open source software. The new BestToolBars service offers a range of branding and customization options and permits the developer to retain full control over the browser's functionality throughout the development process.
Valery Kuznetsov, Key Projects Manager at Besttoolbars said, "Have you ever thought that all the benefits of your plugin can be combined in one custom browser, in which all necessary setting will be preset and only you will make decisions about what is restricted or not? Strontium is the answer. With Strontium you can brand Chromium with your own icon, name and description. You can also set it to use your search engine as a default search engine and preset all extensions you want that cannot be deleted by users or 3rd party tools."
Packed with functionality, Strontium places the developer in complete control allowing easy integration of pre-existing extensions. These extensions can not be deleted from the custom browser by any third party tools and additional plugins can be authorized or prohibited by the browser developer.
Valery Kuznetsov adds, "Since it is your own browser, you're not tied by policies of 3rd party browser add-on galleries and also can create black list for all other extensions. That means no extension or toolbar installation, no affiliate links stealing, no advertising restrictions."
Custom browsers built with Strontium by BestToolBars are also incredibly secure and not under the direct control of other parties – this means there are fewer opportunities for the browser to be hacked.
To find out more visit http://www.besttoolbars.net/articles/Benefits_of_Making_Your_Chromium-based_Custom_Browser/.
About Besttoolbars:
Besttoolbars is a company well known for creating browser toolbars and add-ons. It has worked with an array of global brands, from start-ups to high-profile Fortune 500 corporations including Amazon, Skype, IBM, DHL, TNT and Intel. More than 7000 companies currently use solutions created on the Besttoolbars platform. Its product line includes:
Toolbar Studio: IDE for designing toolbars for Internet Explorer and Firefox
Add-ons Framework: Framework for building add-ons for Internet Explorer, Firefox, Chrome, Safari, and Opera
Besttoolbars also offers a number of services to help businesses integrate their products with desktops and mobile phones. It provides custom browser development, add-ons, add-ins and mobile app development.