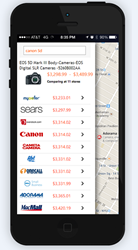 Our technology allows developers to create a mobile app that puts desired products literally at a user's fingertips through their smartphone.
Alexandria, VA (PRWEB) April 01, 2014
New research conducted this month by BestToolBars, a leading browser toolbar and add on development agency, has confirmed the importance of mobile add on development.
Citing a study by Business Insider regarding mobile use and coupon growth, published in May 2013, BestToolBars advises that mobile devices such as smartphones and tablet devices like the iPad are becoming increasingly important, if not essential, to ecommerce. The study backs up this opinion, finding that visits to online stores from tablets grew 82.1% from 2.8 million in April 2012 to 5.1 million in April 2013. Visits from smartphones increased 97.5% from 4.0 million in April 2012 to 7.9 million in April 2013.
Valery Kuznetsov, Key Projects Manager at Besttoolbars said, "Every feature of browser plugin cashback extension can be expanded onto a mobile device thanks to the geo service. This can push the end-user to make more purchases and therefore increase revenue. The geo service function means many valuable features of cash back apps can be tailored for mobile devices as well as making additional features which are likely to attract even more users, possible."
The features that BestToolBars classed as being most relevant and most attractive to developers, and thereby the strongest reasons for which they should incorporate mobile functionality into standard development were split into three key areas.
Through its own independent research, BestToolBars concluded that the price comparison feature was a huge bonus, allowing mobile users to find great deals at stores close to their actual location at any given time. Combined with geo service it can also add such filters as location suggest which will find not only the lowest price, but also can estimate the delivery time and price.
The second way in which mobile apps represent a valuable addition to any plugins' functionality is by virtue of their smartphone capabilities. Unlike a computer based plugin, a user on a smartphone can use a mobile cashback app to scan the product barcode of any desired product so the app can then direct the user to the exact same product to buy online and get the cashback.
Finally, BestToolBars suggest that along with online coupons, a mobile app permits the shopper to use coupons in offline stores, meaning more promoted merchants are available for the end-user.
Valery Kuznetsov added, "Our technology allows developers to create a mobile app that puts desired products literally at a user's fingertips through their smartphone. This means plugin users can purchase goods from online and offline affiliated merchants, increasing convenience for the shopper and revenue for the cashback app developer."
To find out more about mobile app development, visit http://www.besttoolbars.net/articles/importance_of_mobile_cashback_apps/.
About Besttoolbars: Besttoolbars is a company well known for creating browser toolbars and add-ons. It has worked with an array of global brands, from start-ups to high-profile Fortune 500 corporations including Amazon, Skype, IBM, DHL, TNT and Intel. More than 7000 companies currently use solutions created on the Besttoolbars platform. Its product line includes:
Toolbar Studio: IDE for designing toolbars for Internet Explorer and Firefox
Add-ons Framework: Framework for building add-ons for Internet Explorer, Firefox, Chrome, Safari, and Opera
Besttoolbars also offers a number of services to help businesses integrate their products with desktops and mobile phones. It provides custom browser development, add-ons, add-ins and mobile app development.