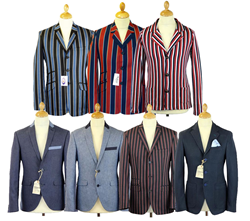 Blazers are something Atom Retro has always carried, but we've found we've needed to increase our range due to extra demand. We can't keep them in stock!
Scarborough, North Yorkshire (PRWEB UK) 31 March 2014
UK online Retro and Mod Clothing retailer Atom Retro have increased their men's blazer jackets range following demand for a smart casual summer look. Atom Retro's summer blazers collection encompasses classically tailored jackets through to more casual linen, jersey and striped boating blazers, from brands such as Gibson London, Ben Sherman, Peter Werth and Madcap England.
"Blazers are something Atom Retro has always carried," explained Atom Retro menswear buyer, Alister Poulton, "but we've found we've needed to increase our range due to extra demand. We can't keep them in stock! As a retro and mod clothing website, we've always done well with blazers – boating blazers and mod suits are staple items in any mod's wardrobe – but recently we've noticed elements of this crossing over into more high street, mainstream fashion with the country heritage look which has been on trend for quite a while now, and stripes are definitely 'in' for summer."
This seasons range at Atom Retro concentrates on clean cut looks in plains and two-tone linens, as well as more daring tonic suit jacket blazers, boldly striped boating blazers and deconstructed blazers in jersey fabrics and pique cotton. "This new trend for summer blazers follows on from the recent tweed blazer fashion," Alister says. "Gibson London's blazers did exceptionally well over autumn, and it looks like it will be carrying on this season with some great options in linen and cotton, plus matching trousers so you can mix and match to obtain the look you want."
Atom Retro's own brand, Madcap England supplies some of the more bold and extrovert blazers in the collection, with the 'Backbeat' boating blazer, currently available in bold red/navy and blue/navy thick stripes, plus the new addition of a deconstructed jersery 'blazer cardigan', which is already proving a hit as Alister explains; "The 'Wonderwall' deconstructed blazer, what we're calling a 'blazer cardigan' is already on our best sellers lists. It's a more casual version of a boating blazer which appeals to customers who perhaps don't want a stiff tailored blazer, who want something that contains the same design elements but is comfy and easy to wear." There will be another new boating blazer from Madcap England released later this summer too.
Atom Retro also recently posted a 'Top 10 Summer Blazers' online at their official blog, featuring their top picks from this season's choices.
About Atom Retro:
Atom Retro is a UK leading clothing retailer, boasting the largest range of authentic, high quality retro and mod clothing for men and women online. The Atom Retro range is inspired by the Carnaby Street boutiques of the sixties and includes an ever growing list of iconic brands and original, independent designers. Browse Atom Retro's extensive range of retro and mod clothing at http://www.atomretro.com.