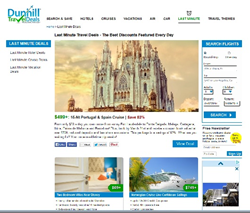 We have taken a new direction with Dunhill Travel Deals that sets ourselves apart from our competition while delivering a better product to our subscribers.
Fort Lauderdale, Florida (PRWEB) April 01, 2014
Dunhill Travel Deals announces the launch of a stunning new travel website with world-class imagery and detailed descriptive content. The modern, user-focused design appeals to consumers shopping for the best travel deals on hotels, cruises, vacations, airfare, and car rentals.
At DunhilllTravelDeals.com, users can shop by destination, type of travel, or by "travel theme" allowing them to search for the perfect romantic getaway, a family-friendly adventure, or a productive meeting site. Consumers can also go straight to the "search & save" comparison tool and enter their desired travel type, destination, and dates to get the best rates from leading travel websites. Those who can travel within the next 30 days can find extra value in the "last minute travel deals" section.
"We have taken a new direction with Dunhill that sets ourselves apart from our competition while delivering a better product to our subscribers," says President Kurt Homfelt. "Through the new website we're allowing the consumer to actively choose how they navigate DunhillTravelDeals.com." Currently, the Dunhill website receives 1.6 million monthly page views and the number is growing.
The redesign is just the first step toward the goal of a dramatically expanded site. In phase two of the project, the website will feature descriptive information on individual hotels and vacation resorts, as well as cruise lines and cruise ships. This will provide a comprehensive overview to the consumer and allow travel companies to endorse specific pages for down funnel, engaged consumers, pinpointing their marketing efforts. In addition, phase two will include a responsive design to meet the ever growing mobile and tablet marketplace.
Dunhill Travel Deals is updating the design of the Top Travel Deals newsletter, a multi-vendor email delivered to 3 million U.S. subscribers each week. Dunhill partners with select travel-centric companies to deliver our flagship newsletter to up to 10.5 million consumers on an ad hoc basis. Dunhill also produces dedicated emails, geo-targeted emails and behaviorally targeted emails. This allows us to deliver customized content to meet both advertisers' and subscribers' preferences.
To explore the new website, please visit http://dunhilltraveldeals.com.
ABOUT DUNHILL TRAVEL DEALS
Dunhill Travel Deals is an online media company and premier publisher of travel deals. Since 2007, Dunhill has been consistently providing our subscribers with the very best travel offers available in the marketplace. With 100+ years of experience in the travel industry, our expert staff aggregates, shops, and handpicks the top offers each week.