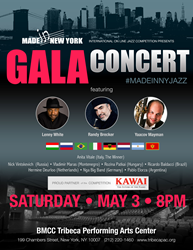 stellar lineup of global talent
New York, New York (PRWEB) March 31, 2014
The concert will introduce one of jazz's brightest new stars in the making – Italy's Anita Vitale, who wowed the judges at the first annual Made in New York Jazz Competition. The Made In New York jazz competition drew competitors from all over the planet. Amazing artists submitted videos of their performances to the competition website, where the videos were judged based on popularity as well as artistic merit as determined by a panel of jazz experts. Anita wowed the judges with her rendition of Jon Hendricks's "Centerpiece" with Bobby McFerrin – it was the choice of all three: Lenny White, Joe Lovano, and Randy Brecker. Competition founder Misha Brovkin characterized her performance as "amazing" and "exciting".
The NGA Big Band from Germany, who took third place in the competition for their version of Bob Brookmeyer's "American Express", will also be appearing at the concert, along with other international jazz talents who scored well with the viewing public, committee and the judges. These include Hermine Deurloo from the Netherlands, Rozina Patkai from Hungary, Nick Vintskevich from Russia, Vladimir Maras from Montenegro, Pablo Elorza from Argentina and Ricardo Baldacci from Brazil, Miqayel Voskanyan Band from Armenia. Tickets can be purchased here: http://goo.gl/KUA79b.
Joining this roster of new performers will be legendary jazzmens who also served as contest judges. Jazz drummer Lenny White who made his recording debut on Miles Davis' now-legendary "Bitches' Brew", and later known for his work with Chick Corea's Return to Forever fusion group and alongside such artists as Woody Shaw, Freddie Hubbard, Joe Henderson, Gato Barbieri, Stanley Clarke, Gil Evans and Stan Getz. In 2012 he, along with Chick Corea and Stanley Clarke, received the Grammy for Best Jazz Instrumental Album for their work on "Forever". Randy Brecker, recorded six albums and garnered numerous Grammy nominations with the band he formed with his brother Michael, The Brecker Brothers. He has also performed with numerous pop, rock and jazz greats including Bruce Springsteen, Lou Reed, Frank Zappa, Dire Straits, Blood, Sweat & Tears, Parliament-Funkadelic, Charles Mingus, Stanley Turrentine, Billy Cobham, Sandip Burman, Horace Silver, Chris Parker and Jaco Pastorius.
Yaacov Mayman an artistic director for the Made in New York jazz competition, a veteran of the international performing stage, having appeared at such diverse events as the Red Sea Jazz Festival and Latino American Festival, will find himself at home in this stellar lineup of global talent. Yaacov was born in Moscow, educated at the Rubin Academy in Jerusalem and now makes his home in New York where he keeps busy not only performing, but also teaching. Young saxophonist already worked with Ray Santiago, Avishai Cohen, Darrel Green, Edsel Gomez, Ed Jackson, Arnie Lawrence, Benny Golson and many others.
The Made In NY Jazz Gala Concert is shaping up to be a truly one-of-a kind event, hosting perhaps the most diverse array of performers ever to take the stage at one time. Even in New York, where you can see jazz performances every night of the week, this is still one concert that is not to be missed.
Tickets available here: http://goo.gl/KUA79b.