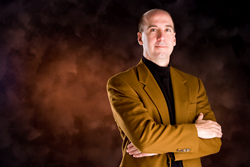 Who wouldn't love a job informing the world of all the possibilities that await them?
Austin, TX (PRWEB) March 31, 2014
Finding a career that you love takes time, patience and practice. Futurist Jack Uldrich has put all of those elements into play over the past several years. And now he is having the time of his life writing and speaking about future trends.
How exactly does one become a futurist? Uldrich describes his journey as an evolution. He began his career as a naval intelligence officer, worked as a military planner in the Pentagon, and served as Governor Jesse Ventura's Director of Strategy. Clearly gifted with intelligence and insight, Uldrich has always enjoyed research and sharing his findings. Thinking at first perhaps politics was his calling, acting as the head of the Independence Party in Minnesota, Uldrich realized his family needed to come first. So he began crafting a life where he could work from home and focus on being an author, which then morphed into a high gear public speaking career that takes him all over the world.
Starting out with topics on leadership, writing books on Lewis & Clark and George Marshall, to name a few, Uldrich quickly saw that his real passion was future trends. Having become taken with nanotechnology in the early 2000s, Uldrich went to work on his book, "The Next Big Thing is Really Small." Since then, Uldrich has never looked back. In fact, he now makes his career all about looking forward.
A sample of his latest book, Foresight 20/20: A Futurist Explores the Trends Transforming Tomorrow can be viewed here.
Uldrich runs two paths simultaneously--focusing on the key features of looking forward and "unlearning." What may at first appear to be a paradox, the two concepts actually work in perfect harmony. Uldrich often quotes the Chinese philosopher Lao Tzu, saying, "To attain knowledge, add things every day. To attain wisdom, subtract things every day." And so it goes with Uldrich's journey. He writes and speaks to a variety of industries on such topics as the Internet of Things, how to future-proof your business, and why future trends demand unlearning. Uldrich would define unlearning as, "subtracting habits and patterns that no longer serve us, in order to open our eyes to the world of possibility before us."
To that end, Uldrich has a big month ahead with the following eight engagements:
April 2: Fiatech 2014 Technology Conference & Showcase, Huntington Beach, CA
April 7: Retail Asset Protection Conference, Indianapolis, IN
April 11: Chu Vision Annual Conference, Minneapolis, MN
April 16: Verizon Wireless, Austin, TX
April 17: Catalyst Corporations Accelerating Success Conference, Las Vegas, NV
April 23: Society of Industrial and Office Realtors 2014 Spring World Conference, Las Vegas, NV
April 29: FCC (Farm Credit Corporation) Executive Leadership Conference, Washington, DC
April 30: TBA
Parties interested in learning more about Jack Uldrich, his books, his daily blog or his speaking availability are encouraged to visit his website at: http://www.jumpthecurve.net. Media wishing to know more about the events or interviewing Jack can contact Amy Tomczyk at (651) 343.0660.
Uldrich is a renowned global futurist, best-selling author; editor of the monthly newsletter, The Exponential Executive, and host of the award-winning website, http://www.schoolofunlearning.com.