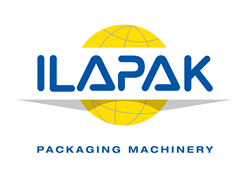 We are very excited to be showing something truly innovative for every core industry.
Lugano, Switzerland (PRWEB) March 29, 2014
ILAPAK, leading manufacturer of packaging machines for flexible film applications, will demonstrate how it has sharpened its focus on key target industries.
"We've always focused on the specific needs of the industries we work with, but now we are drilling down deeper in our focus to deliver even more value added solutions for our customers," says Guy Levy, Vice President Commercial, at ILAPAK.
The ILAPAK stand (Hall 8B, Stand C40), will be zoned by industry, so visitors from the bakery, chocolate & confectionery, meat, cheese, produce and frozen food industries can talk to experts with in-depth knowledge of their industry and see machines in action on their products.
ILAPAK will be previewing cutting-edge technological innovations for all of these industries, among them several world firsts. These include the first full wash down IP65 rated horizontal form fill seal (HFFS) system for the fresh meat industry, a MAP flowrapper capable of high speed packing of blocks of cheese in stand-up Doy-style pouches with zipper, and an innovative system that combines flow-wrap protection with twist-wrap presentation for confectionery products.
ILAPAK has scored an industry first with its new HFFS Carrera 6000, a fully modular flowrapper that also offers complete IP65 protection, enabling full wash down, even of the sealing elements. The ultra-hygienic machine will be packing mini pizzas, but can also be configured for chocolate bars, bakery products and produce. Confectionery industry visitors will be wowed by a confectionery specification Carrera 6000 with a revolutionary new wafer feeding module.
The new Delta 6000, another IP65 hygienic design machine, incorporates a new higher speed long-dwell sealing system for MAP applications up to 200ppm. Feeding this Delta 6000 on ILAPAK's stand is a robot which will pick and place donuts into the flowrapper's chain section.
The flexible Delta 4000 3SSC opens up new presentation possibilities for products such as cheese and bacon. The Doy-style stand-up pouch, a proven vertical format that allows products to stand out on shelf, can now be made on the horizontal flowrapper at speeds of up to 150ppm with MAP. With the current 'natural' trend, at Interpack the machine will be packing cheese portions into brown paper stand-up packs with reclosable zipper.
The Olympus, the first breakthrough to come out of ILAPAK's alliance with IMA, wraps candies in twist-wraps with an inner flow-wrap, prolonging the shelf-life of confectionery products. Operating at speeds of up to 800-1,000ppm, the continuous motion machine saves on film costs through a narrower side seal and heat sealing.
Interpack will mark the European launch of the Eagle S Flow Wrapper from Delta Systems of Rogers, Arkansas, an ILAPAK company. The new sanitary design model with low-pressure infeed will be shown on a granola bar application, equipped with a light contact smart-belt infeed that accepts the bars at random and delivers them to the wrapper at speeds of up to 600 per minute.
On the VFFS side, the Vegatronic 6000 is ILAPAK's flagship project for 2014. Unrivalled versatility and access for cleaning are the hallmarks of this modular continuous motion bagger, which can pack dry and wet products in a variety of bag styles, including pillow, block bottom, Quattro, EasyPack and Doy-style packs. Access is facilitated by open frame design, clean film carriage and mounting of the forming tube on a swivel arm for easy removal.
The Vegatronic 6000 will also be on show in the fresh produce zone in full stainless steel with ultrasonic sealing to eliminate seal contamination and leaks.
There will be an entire area dedicated to ILAPAK's Customer Service offering, where the team will explain how planned and preventative maintenance can help extend machine life and minimise COO. Here, ILAPAK will demonstrate a new condition monitoring tool, whereby measurements such as machine temperature and vibration serve as benchmarks for the condition of a machine, and can be used to highlight potential problems.
Editor's note
Since 1970, ILAPAK has been at the forefront of form fill and seal technology, with a portfolio of horizontal and vertical packaging equipment that covers every conceivable flexible film application, from modified atmosphere packaging to sachet production, as well as associated product handling, automation and cartoning solutions. Every year, more than 600 machines and automated packaging lines are delivered to customers across the globe by one of the largest sales and customer service networks in the industry, with representation in more than 50 countries. Headquartered in Lugano, Switzerland and employing 450 people, ILAPAK operates four ISO 9001:2000 and ISO 14001:2004 certified manufacturing plants on three continents and 14 subsidiaries worldwide. ILAPAK is part of the IMA Group, a world leader in the design and manufacture of processing and packaging lines for pharmaceuticals, cosmetics, tea, coffee and food.