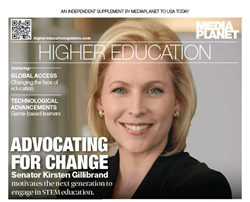 New York, NY (PRWEB) March 28, 2014
The print component of "Higher Education" is distributed within this weekend's edition of USA Today in New York, Philadelphia, DC/Baltimore, Dallas, Chicago and Los Angeles, with a circulation of approximately 450,684 copies and an estimated readership of 1.4 million. The digital component is distributed nationally through a vast social media strategy and across a network of top news sites and partner outlets. To explore the digital version of the campaign, click here.
Kirsten Gillabrand, a United States Senator and advocate for STEM education, graces the cover of the print publication. An exclusive interview with Gillabrand in the interior serves as a source of inspiration, establishing a connection between women, minorities and the importance of equal representation in STEM-related fields. Additionally, College Track founders, Laurene Powell Jobs and Carlos Watson, shed light on the program's success in empowering and assisting students from underserved communities to seek a college education and beyond. The campaign focuses on inspiring the "new majority" of students to pursue a higher education regardless of age, career or financial standing.
This campaign was made possible with the support of the National Association of Student Financial Aid Administrators (NASFAA), Penn State World Campus, Jone's International University, Northern Arizona University Extended Campuses, Drexel University, Salisbury University, Iversity, Western Governors University, Frontier Nursing University, Villanova University, Career Step, AcademixDirect, Coursetalk, Becker College, Indiana Wesleyan University, University of Southern California and Adobe, and more.
About Mediaplanet
Mediaplanet is the leading independent publisher of content-marketing campaigns covering a variety of topics and industries. We turn consumer interest into action by providing readers with motivational editorial, pairing it with relevant advertisers, and distributing it within top newspapers and online platforms around the world.