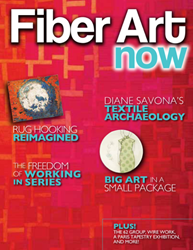 Our mission is to inspire & connect the growing contemporary fiber arts community, supporting & celebrating its current renaissance.
Boston, Massachusetts (PRWEB) March 28, 2014
Fiber Art Now continues to stand on the edge of fiber art's expanding universe, introducing fiber art and its creators to the wider world of art.
Though objects made from fiber have been created by man since his prehistory, Fiber Art was only recognized as a true art form in the 1960s, when artists began using textiles to create conceptual works, to explore ideas, as all great art does.
The 60s and 70s were years of growth in this art and its wider acceptance as art rather than craft. Quilts were no longer relegated to covering beds. The material and techniques could express the depth of human suffering and the heights of joy. Artists such as Norma Minkowitz, John McQueen, and Annie Albers used fiber and fiber techniques in many ways, such as sculpting the human form, recreating the adornments that defined the person, or redefining basketry or tapestry, resulting in a new paradigm and respect for fiber arts. Visit Fiber Art Now magazine to learn more, access free articles, find resources, browse photo galleries, and subscribe.
Since the 70s, the definition of fiber arts has continued to expand. It is no longer bound by specific materials. The American Textile History Museum, an affiliate of the Smithsonian Institution, supplies us with a simple definition that covers fiber art without establishing too-strict boundaries. Their definition is: "Fiber art includes any type of artwork that uses fiber techniques or materials." Ruth Asawa's graceful crocheted wire sculptures are an example of the doors that have opened as fiber techniques have been adopted by conceptual artists.
Fiber Art has continued to gain respect in the art world and to be shown in prominent galleries worldwide, including being part of the highly regarded Art in Embassies Program, which promotes cross-cultural dialogue and understanding through the sharing of visual arts, and the Renwick Gallery exhibitions. Currently, visitors to New York will encounter The New York Transit Museum's fiber art exhibit in Grand Central Station celebrating Grand Central Terminal's 100th anniversary. More information can be found at the Art Quilt Gallery NYC.
Fiber Art Now is dedicated to exploring this burgeoning art form. For more information on how to join in, visit http://www.fiberartnow.net.