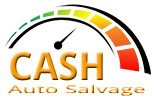 Buffalo, NY (PRWEB) April 08, 2014
The concept of a nationwide network of auto salvage yards is not anything new. However a new player in the game, Cash Auto Salvage (http://www.cashautosalvage.com) is promising to change the way networks of auto salvage yards operate, one recycler at a time.
Originating in New York and operating across the United States, Cash Auto Salvage purchases running and junk cars, trucks, vans and SUV's from individuals and provides the highest level of customer service in doing so. Cash Auto Salvage vows to treat each customer as if they are the only one of the day, offering an honest quote, friendly service and genuine care.
Car owners face various problems when it comes to deciding on which auto salvage yard to sell their junk car too. Usually their vehicle was just wrecked, stopped running, has mechanical and engine problems or sometimes flood damage. The last thing stressed out vehicle owners want to do in this instance is call around for a company that can assist them. Having to turn to Google searching for "who buys junk cars".
That's where Cash Auto Salvage comes into play. They take the time to pre-screen for honest, reliable automobile recycling companies to add to their service area and make sure that they align with the service they are looking to provide. Calling around to multiple junk car buyers isn't too fun. Cash Auto Salvage takes care of that whole process by getting the best junk car quote possible.
No matter the situation, they will be upfront and honest as well as guarantee their price. While others will offer a high quote just to show up and "inspect for more damage", the price they offer is the price paid.
If there is one thing besides the automobile industry that Cash Auto Salvage holds dear to their heart it's customer service. It is their goal to have this show through the phone on every call they receive.
Cash Auto Salvage doesn't want to just buy the junk car. They want to pay cash for the car, tow it for free and provide a process that is simple, effective and fun.
--
About Cash Auto Salvage
Cash Auto Salvage is the nation's newest and premier network of auto salvage yards that operate across America. They are junk car buyers that offer honest pricing and friendly service on every automobile they purchase at their auto scrap yards. Cash Auto Salvage can be reached at (877) 790-4442.