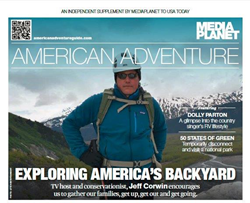 New York, NY (PRWEB) March 28, 2014
The print component of "American Adventure" is distributed within this weekend's edition of USA Today in New York, South Florida, the Carolinas, Cincinnati, Dallas, Denver and San Francisco, with a circulation of approximately 470,000 copies and an estimated readership of 1.4 million. Its digital component is distributed nationally through a vast social media strategy and across a network of top news sites and partner outlets. To explore the digital version of the campaign, click here.
Jeff Corwin, renowned conservationist and explorer, graces the cover of the print publication. An exclusive interview with Corwin on the interior serves as a source of inspiration for readers to get up, get out and get going on the next adventure. Dolly Parton is also feature, sharing insight into her RV lifestyle, memories and inspirations. The campaign focuses on different types of trips from road trips, RVing, camping, hiking, fishing and many more.
This campaign was made possible with the support of AAA, Leave No Trace, Children & Nature Network, National Park Conservation Association, Yellow Stone Association, Family Motor Coach Association, National Association of RV Parks & Campgrounds, Recreation Vehicle Industry Association, National Marine Manufacturers Association, American Boating Association, Foundation for Safe Boating & Marine Information and more.
About Mediaplanet
Mediaplanet is the leading independent publisher of content-marketing campaigns covering a variety of topics and industries. We turn consumer interest into action by providing readers with motivational editorial, pairing it with relevant advertisers, and distributing it within top newspapers and online platforms around the world.