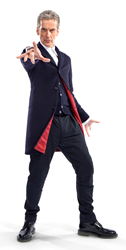 This is the sort of access to pure power that can change your life.
UK, London (PRWEB UK) 31 March 2014
Screenwriting Goldmine Awards opens the door to the heart of the industry for aspiring Doctor Who scriptwriters.
Have you got a script idea for a sci-fi drama or comedy? Would you like to get your script into the hands of a current Doctor Who producer?
Opportunities for Sci-Fi fans to have their work read by influential industry experts are few and far between, but this year's Screenwriting Goldmine screenwriting contest is offering new writers just that.
Sitting on the panel of judges is Nikki Wilson, producer of the next Doctor Who series.
Other industry experts from television and film on the judging panel include:

the producer of Interview With The Vampire, The Company of Wolves, and The Crying Game
the Head of Development for Channel 4
the series producer of Coronation Street
many other prominent industry figures
The Screenwriting Goldmine Awards are only in their third year, but already the calibre of finalists has generated such a buzz among those involved in commissioning and producing television and film scripts that the judging panel has doubled from last year.
"In fact this year we have 24 industry professionals signed up on the panel. That's double the amount of judges we had last year – and double the industry access for entrants," says Phil Gladwin, the organiser of the awards and an experienced script writer. He himself wrote a couple of episodes for the Doctor Who spin-off, the Sarah Jane Mysteries, creating Kudlak the Warrior.
"The message is clear: industry professionals sign up to help judge this contest because they know it will find some great writers, and they don't want to miss them. Which is great news for writers!"
Successes From The First Two Years
The Screenwriting Goldmine Awards have already established an impressive track record of success.
The outright winner of the 2013 prize, Jane Eden has since signed with the agent Tanya Tillett from the Knight Hall Agency. Jane joins an industrious list of clients that includes Simon Beaufoy (Slumdog Millionaire, 127 Hours), Jeremy Brock (Last King of Scotland) and Ol Parker (The Best Exotic Marigold Hotel).
Meanwhile, Matthew Coombes' winning script from the first (2012) contest was optioned by Jonathan Fisher, from Island Pictures.
Soon after winning the 2013 Award Jane met four agents "and they've all offered me representation which is amazing - I'd be really lucky to go with any of them.
"It's quite incredible to suddenly be meeting so many people so quickly and it's of course a direct result of the competition," she says.
"It is that feeling of a door is open and of course they might just say, 'Come back when you've got something else.' And I think it's amazing just to be able to meet them, to be read by them. The impact that it's had on my confidence so far is incredible."
Phil points out that the Awards provide a rare and hugely valuable opportunity for aspiring screenwriters with expert input from edgy independent movie companies through to some of the biggest TV shows in the world, from international production companies, through Creative England and BFI, to a global strategic thinker and international co-production buyer.
"It's a pretty exciting prospect to consider that each of these judges is guaranteed to read every single one of the short-listed scripts. Trust me, that's the sort of access to pure power that can change your life."