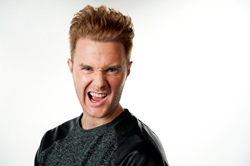 Los Angeles, CA (PRWEB) March 28, 2014
Maker Studios, the leading network of online video content on YouTube, today announced a strategic partnership that will bring some of the biggest YouTube stars to Music Choice, the #1 Free Video On Demand provider in the US. It also marks the first time Music Choice has partnered with an online content network such as Maker. As part of the deal, Music Choice will feature a month-long takeover of Maker talent partner Bart Baker's comedic music parodies.
Starting today, Music Choice will have access to over 500 hours of Maker programming, from its music network Maker Music, to air across its properties including Music Choice Play, Music Choice Music Channels and Music Choice Video On Demand. Viewers will be treated to hours of content from Maker artists such as Bart. Maker content will be found in the Maker Music folder and will include music videos, lifestyle series and one-off videos.
"Music Choice is not only a video and music network, we are also a content provider and are always looking at new and innovative ways to reach our customers with captivating content," said Damon Williams, VP Programming, Music Choice. "Maker has an amazing catalog of content that attracts a massive millennial audience, making it the perfect match for us!"
"This is a valuable partnership for Maker as Music Choice's multiple properties are a perfect fit to for our artists and music programming," said Jenna Seiden, VP Distribution and Strategic Partnerships, Maker Studios. "We're thrilled that Music Choice viewers will now be able to experience stars like the incredible Bart Baker and we look forward to sharing more great music content in the coming year."
For more information, visit http://www.makerstudios.com or http://www.musicchoice.com.
About Maker Studios
Maker Studios is a next-generation media and technology company and the world's largest provider of online video content for Millennials. Maker Studios has more than 5.5 billion monthly video views and 380 million subscribers, targeting the coveted Millennial audience. Maker Studios is headquartered in Culver City, Calif., and has operations in New York and London.
About Music Choice:
Music Choice, the multi-platform video and music network, delivers its music programming to millions of consumers nationwide through their televisions, online and mobile devices. Music Choice programs dozens of uninterrupted music channels; produces originals that feature today's hottest established and emerging artists; offers thousands of music videos; and launched Music Choice Play, the music video, lifestyle and entertainment network for Millennials. For additional information, log on to http://www.MusicChoice.com | Twitter: @MusicChoice | Facebook: http://www.facebook.com/MusicChoice.
About Bart Baker:
Bart Baker is the real deal, except on YouTube, he's just the opposite – a professional "parodier." Bart is a one-man comedic mastermind creating, acting, and directing his own hilarious spoofs of top-trending music videos. However, the term "one-man" should be used loosely, as Baker's signature trademark is his transformation into the multiple male and female personas whose music videos he mocks. When Bart isn't posing as Miley Cyrus or Justin Bieber, you can find him in the studio making original music or developing new ways to connect with his fans – he now has close to 50 singles available on iTunes, a full album, cool merchandise, a second YouTube channel, and his own iPhone music video app!
###
Contact:
Maker Studios: Dena Cook, dena(at)brewPR(dot)com
Music Choice: Josefa Paganuzzi, jpagannuzzi(at)musicchoice(dot)com