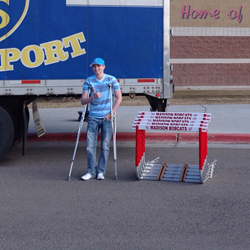 And you can't have 10 blocks and no cart. Tell the guys in operations to get one of those started too.
Royersford, PA (PRWEB) March 28, 2014
AAE (Aluminum Athletic Equipment Co.), a leading U.S. manufacturer of sports equipment, is honored to partner with Make-A-Wish Idaho in granting the wish of Rhett, a seventeen year-old high school track athlete battling osteosarcoma (a form of bone cancer). During the annual Spring Sports Assembly held on Wednesday, March 26th, Rhett surprised his Madison High School track team and entire Rexburg community with the 80 AAE hurdles and 10 AAE starting blocks that he selflessly requested from Make-A-Wish in lieu of anything for himself. Unable to participate in track his senior year because of his treatments, Rhett felt that his track team gave him so much and he wanted to give back to them.
When AAE was contacted by Make-A-Wish Idaho Director of Program Services, Brenda Vogt, regarding this special wish request for track equipment, the company agreed without hesitation to provide over $17,000 worth of equipment for the typical wish cost of $5,000.
Although Rhett and his track coach created their wish list of 80 hurdles and 10 starting blocks, it was soon expanded by AAE. "Let's give them our more durable welded rocker hurdles," spontaneously directed AAE President, Tim Driscoll. "And you can't have 10 blocks and no cart. Tell the guys in operations to get one of those started too."
AAE also had the proud support of many vendors that helped get Rhett's wish delivered: most importantly Road Scholar Transport, who generously delivered all of the equipment to Rexburg, Idaho free of charge; as well as Petro Extrusion Technology; East Coast Plastics, Inc.; Unique Aluminum Extrusions LLC and Radiant Steel Products, Inc.
Since inventing and patenting the aluminum rocker hurdle in 1950 for the track marketplace, AAE has introduced a multitude of new products for use by coaches and athletes worldwide. With the use of advanced technology and design innovations, the firm makes over 500 items, including: track hurdles; track starting blocks; discus cages; pole vault pits; high jump pits; long jump pits; permanent, portable, hinged or rotating football goal posts; semi-permanent or portable soccer goals; field hockey goals; lacrosse goals; baseball batting cages; baseball foul poles; ball stopper protective sports netting; portable press boxes; team benches; portable bleachers and Kronum goals. AAE develops, fabricates and assembles most products at its Royersford headquarters and manufacturing location near Philadelphia, PA. For more product information call 800-523-5471 or visit myAAEworld.com.