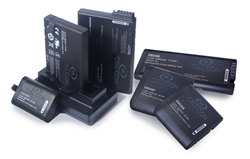 Engineers get to market faster by saving development time and tooling fees.
Exton, PA (PRWEB) April 01, 2014
Our new battery lineup has worldwide approvals, helping Engineers get to market faster while saving development time and tooling fees.
In efforts to assist Engineers and OEM's get to market faster, Cell-Con, Inc. http://www.cell-con.com is offering a variety of Li-ion batteries already developed with worldwide approvals. No development expense, tooling, or agency approval costs are needed for our standard battery packs and corresponding charger.
"Our standard Li-ion battery options are high performance batteries used in applications such as medical devices, tablet PC's, notebooks, and industrial devices," said Gene Kiley, CEO of Cell-Con. "Currently we are offering six smart battery options and a single corresponding Li-ion battery charger that charges any of the six batteries."
Nominal ratings for these Li-ion smart battery packs include 14.40V 6.60Ah, 11.25V 8.85Ah, 11.25V 2.95Ah, 11.25V 6.40Ah, 15.0V 3.20Ah, 7.5V 6.40Ah.
In the works: wireless charging and car chargers/ adapters.
For more information visit Cell-Con.com
About Cell-Con
Cell-Con manufacturers custom, rechargeable battery packs and battery charger solutions for commercial applications, using Li-ion, LiFePO4, and NiMh chemistries. incorporated in 1983, Cell-Con serves as a world class supplier and manufacturer to Original Equipment Manufacturers. Their customers include medical device manufacturers, military, transportation, instrumentation, utility / metering, RFID, robotic, and data acquisition markets.
###
CONTACT:
Brian Piper
800-771-7139
brian.piper(at)cell-con(dot)com