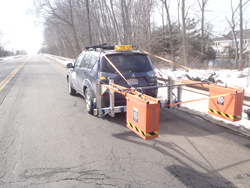 Boston, MA (PRWEB) March 31, 2014
Infrasense, Inc. recently completed a subsurface pavement structure investigation and a bridge deck condition investigation in Connecticut using high-speed ground penetrating radar (GPR). The pavement investigation was performed on 2 miles of state highway, with an initial phase of data analysis to define the limits of the different structural "sections" of pavement throughout the project limits. Some areas of the mainline roadway are known to be constructed of concrete with an asphalt overlay, but there was some uncertainty regarding precise boundaries of these sections. In addition to the pavement structure, Infrasense analyzed the data to provide the individual layer thicknesses. This structure analysis information will be used to plan future reconstruction on the highway.
The bridge deck condition investigation was performed on a bridge carrying a local road over a divided interstate highway. The GPR survey was performed to help decide whether the bridge will be rehabilitated or replaced. Because many bridges in Connecticut have asphalt overlays, assessing the condition of the deck becomes difficult; GPR investigations can provide helpful information on the subsurface condition of the decks to supplement visual inspections without removing the asphalt surface.
The pavement structure and bridge deck condition data was collected with a dual air-coupled radar antenna system manufactured by Geophysical Survey Systems Inc. (GSSI), and was synchronized with a Global Positioning System (GPS) to provide coordinate locations for the detected pavement thicknesses. Data collection was performed at driving speeds allowing traffic to flow without any disruption. Pavement structure results were provided in geospatial, tabular, and graphical formats, and bridge deck results were provided as deterioration and rebar depth contour maps.
Infrasense has played a key role in the development and implementation of GPR for pavement assessments over the past 25 years. Currently, the most common application of this state-of-the-art technology is the determination of pavement layer thickness because, unlike traditional coring, GPR requires no lane closures and provides a timely and cost-effective means of collecting continuous thickness data. This data may be used for network-level pavement management, project-level rehabilitation design, or quality assurance of newly constructed pavements. Infrasense surveys have covered over 10,000 lane miles of pavement. Projects range in size from our recent project in Connecticut to a survey of over 1,500 miles of county roads in North Dakota.
At the network level, GPR can provide layer structure data used to identify homogeneous sections and to compute the remaining life of segments of the network. Computation of remaining life enables highway agencies to optimize their programming and planning of pavement rehabilitation. A number of agencies have implemented GPR at the network level, including the California Department of Transportation (CalTrans) and the Oklahoma DOT.
At the project level, GPR data provides information that enables owner agencies and consultants optimize rehabilitation design by providing accurate information on the current pavement structure. GPR data is also used to implement pavement recycling by providing details on the thickness of the bound material and how it varies over the project length.
GPR data is collected on bridge decks to estimate rebar depth and corrosion conditions. The GPR data is collected in a series of lines spaced 3 feet transversely across the width of the deck, with each line representing a cross sectional slice of the deck at a particular offset. GPR condition information is used by agencies at a management level, to distinguish, categorically, the level of action required to preserve a group of decks. That is, for example, which decks require minor repairs, patching, an overlay, or replacement. Additionally, once these higher-level decisions are made, GPR can be used as a scoping tool to determine the extent of repair required for a particular deck.
About Infrasense, Inc.
Since 1987, Infrasense, Inc. has applied state-of-the-art technologies to address the most difficult challenges in subsurface scanning. Infrasense's engineers are able to nondestructively extract critical information from a diverse range of structures. In addition to providing ongoing subsurface evaluation services to clients across the country, the firm has also conducted numerous research programs to advance the field of subsurface detection and non-destructive evaluation.