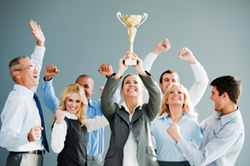 People want to get back to what's important, and it's not money and power anymore. It's the desire to connect with other human beings, a prize that is beyond value.
(PRWEB) March 29, 2014
Many companies seek employees whose values match those of the organizational culture, but how does a person's individual values affect their work performance? Using data collected from their Values Profile, researchers at PsychTests sought to uncover what top performers in a company value, and how it can impact their success.
Analyzing a sample of 2,100 people, the following employee types emerged from PsychTests' study:
THE PEACE-MAKERS
Distribution: 56% of top performers, 37% of poor performers
What they value

Altruism
Family & Friends
Acceptance & Belonging
Community
Work/Life balance
Strengths/Advantages

Easy to get along with
Outgoing nature and caring personality could make them an inspiring and affable leader
Team players
Enjoy helping others
Care about their customers
Consider integrity a priority
Don't mind being put to work, as long as it doesn't result in long hours
Strive to set a good example for others
Motivated by sense of accomplishment and verbal praise
Good at developing a rapport with others
Good at maintaining relationships with clients
Challenges

Given their preference for work/life balance, may not want to work overtime or travel very often
Less likely to thrive in positions in which they have little contact with others
Their easy-going nature could be taken advantage of
May struggle to adapt to a dynamic, fast-paced work environment
THE PRAGMATISTS
Distribution: 16% of top performers, 26% of poor performers
What they value

Practicality and simplicity
Stability
Financial security
Hard work
Strengths/Advantages

Enjoy being put to work – want to be productive
Hard-working, especially on lucrative projects
Steadfast workers who won't stop until a job is done
Model employees who would set a good example for others
Methodical and efficient work approach
Likely to be handy and/or good with tools
Dedicated to projects that they are passionate about
Challenges

Need job security
Need structure and routine
Need to be recognized for their hard work with rewards of monetary value
Much more practically-minded than creative or intellectual
Not likely to be people-oriented and may prefer to work alone
THE SCIENTISTS
Distribution: 15% of top performers, 22% of poor performers
What they value

Knowledge
Innovation
Scientific Exploration
Intellectualism
Strengths/Advantages

Enjoy the challenge of complex projects
Good problem-solvers
Strong analytical reasoning skills
Enjoy learning new things – and can be quick learners
Innovative thinkers
Methodical work approach
Thrive on verbal praise more than any other form of reward
Will work particularly hard on projects that appeal to their intellect
Challenges

Need to be challenged intellectually or will become bored
Can be impatient with people who are not as intellectually advanced as they are
Not particularly good with people – likely to need emotional intelligence training
THE IDEALISTS
Distribution: 7% of top performers, 4% of poor performers
What they value

Strengths/Advantages

Brainstorming
Creative expression
Projects that require a unique and original approach
Have a knack for channeling their emotions into creative endeavors
Are not easily swayed from their beliefs or principles
Love to learn and discover new things
Challenges Their go-with-flow attitude and approach could result in disorganization – missed deadlines, lack of efficiency, etc.
Unless a project fits their interests, they are unlikely to be very motivated or productive
May prefer to work on their own, especially when it comes to creative endeavors
Do not adapt well to highly-structured work environments
THE LADDER-CLIMBERS
Distribution: 6% of top performers, 11% of poor performers
What they value

Recognition
Power
Career
Pride
Competition
Strengths/Advantages

Love to be challenged with complex tasks and projects
Want to be put to work and like to be kept busy
They aim high – and the greater and more lucrative the project, the harder they'll work
Independent and confident – don't need their hand held by management
Will strive to reach their fullest potential
Challenges Need to be recognized and rewarded for their work
Their competitive nature could rub others the wrong way
Their assertive and direct demeanor could intimidate others
Would prefer to lead than follow, and may not take direction well
Can be impatient with people who don't work at their pace
Can be egotistical and self-absorbed
More concerned about their own success
"Each type of employee has some strengths and areas to work on, but those who emphasize social values tend to have better performance ratings," explains Dr. Jerabek, president of the company.
"The Peace-makers are employees who get a kick out of helping others. They want to be able to provide the best service to their customers; they want to help their team succeed; they also want to be a good family member, friend, and member of the community. They make success personal, because they know that through their hard work and dedication, they can help a lot of people."
"In other studies we have conducted on values, one thing has become very clear: There is a strong emphasis on the importance of social values. People want to get back to what's important, and it's not money and power anymore. It's the desire to connect with other human beings, a prize that is beyond value."
Want to assess your values? Go to http://testyourself.psychtests.com/testid/3620.
Professional users of this assessment (HR professionals, therapists, coaches and consultants) can request a free demo of this or any other tests from ARCH Profile's extensive battery: http://hrtests.archprofile.com/testdrive_gen_1.
Wish to learn more about psychological testing? Download a free eBook about using personality tests for pre-employment screening, career and leadership development, onboarding or other HR purposes.
About PsychTests AIM Inc.:
PsychTests AIM Inc. originally appeared on the internet scene in 1996. Since its inception, it has become a pre-eminent provider of psychological assessment products and services to human resource personnel, therapists, academics, researchers and a host of other professionals around the world. PsychTests AIM Inc. staff is comprised of a dedicated team of psychologists, test developers, researchers, statisticians, writers, and artificial intelligence experts (see ARCHProfile.com). The company's research division, Plumeus Inc., is supported in part by Research and Development Tax Credit awarded by Industry Canada.