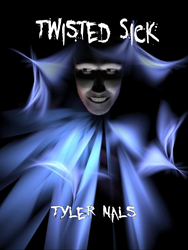 "If you read for entertainment, you won't be disappointed here."
Charlotte, NC (PRWEB) March 30, 2014
Source: Tyler Nals.
5-Star Reviews:
A fun read, love the surprises
"You never know where the author is taking you. It's unpredictable original thinking. The stories are short too, which is great. It's not for children but a great read for adults who want something a little off kilter. A welcome addition was the humor, every now and then you just have to snicker. If someone else can write like this, maybe my imagination isn't so twisted after all. I'll definitely be reading these over again."
A wild, whacky and fun ride
"I'm not a big fan of horror so I was on the fence, but only a few stories in here are really horror. I don't even know how to classify most of them. The only word I can think of is entertaining. The title of the first story Writing Tools gave me the wrong idea. I thought it would be about how to write or something else boring. I was way off. It was a highly entertaining story as was almost every story in the book.
Reading this book is like going to a carnival: fear, fun, excitement, strange and interesting characters. I'm not the easiest person to please, but I would definitely recommend this one, especially if you're looking for something out of the ordinary."
Hang on to your imagination
"I can't tell you how excited I am to have this writer's stories in book form to read over and over. His stories are unique, captivating, and so entertaining. His characters get right into my head and make me feel, all kinds of emotion. They bring me into the story and make me want to keep reading to see how it ends.
Each story is unique and written in a style that truly made me a fan of Tyler Nals. The dialogue is real, the humor is fun, and the twists and turns are entertaining and delightful.
If there is one word for this collection of stories, it has to be ... memorable. I promise, the stories will stay with you and you'll find yourself recalling the characters and stories long after reading them. If you want to read a book of stories that will grab your emotions, Twisted Sick is the one to get. I promise that you'll be glad you did!"
Definitely NOT Crap
"How can someone, who has not read the book, make a statement that it has to be crap? AMAZON should strike that one-star review.
First, this is a collection of the humorous as well as the weird, but above all, it's well-written and engaging. The author had me going with his story about writing to Stephen King and getting a response. At first, believable and then... funny!
If you read for entertainment, you won't be disappointed here."