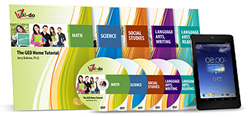 Our teaching material is successful because it speaks to every style of learning.
HACKENSACK, N.J (PRWEB) April 08, 2014
Going beyond traditional GED test preparation courses, the educational entrepreneurs behind New Jersey-based educational development company Wil-Do, Inc., were determined to create a more natural method for students to learn material for their adult high school diploma or General Educational Development (GED) test. Utilizing interactive technology and video, the team at Wil-Do has made GED studying more engaging.
The Wil-Do approach to more effective studying, called "Breaking the Code", is based on the idea that people have different learning styles. These learning styles are visual, auditory and kinesthetic, and many people favor one style more than the other two.
While most GED preparation courses – as well as public schools – base their teaching style primarily on visual learning, Wil-Do teaches the way most people learn best: through a combination of all three methods. "People who favor kinesthetic or auditory learning styles can be very discouraged by a visual-dominated style of teaching," said Wilfredo Reyes, the founder of Wil-Do. "Our teaching material is successful because it speaks to every style of learning."
Wil-Do's DVD and streaming videos teach critical thinking skills that replace simple fact memorization. Rather than relying on endless, visual-based read material, Wil-Do uses video that can be seen on a computer, TV and any mobile device. Additionally, students have the ability to study at a pace that is right for them. With Wil-Do's line of products, the classroom comes to the student any time of day and can be planned around a changing or unpredictable schedule.
Through plain conversational talk, the "Breaking the Code" instructional videos utilize pictures and animation as well as hints and strategies to promote test-taking skills. "When given the proper tools, students can discover their natural intelligence and apply their talents to the challenge of earning their GED," said Reyes.
About Wil-Do
Founded by Wilfredo Reyes, Wil-Do, Inc., is an educational development company dedicated to providing a more engaging and personal approach to earning a GED online. Wil-Do is dedicated in bringing perspective, passion, and social change to the image of the under-served student, the high school dropout. For more information about Wil-Do, or to purchase its products, please visit http://www.Wil-Do.com.