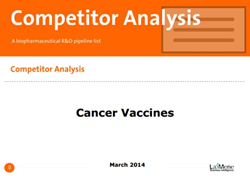 Rockville, MD (PRWEB) April 03, 2014
Competitor Analysis: Cancer Vaccines
The present Competitive Intelligence report about Cancer Vaccines provides a competitor evaluation in the field of novel prophylactic and therapeutic vaccines to fight cancer as of March 2014. Purchase of the downloadable pdf report includes a 6-month online access to the data of the report and any updates since the publication date. Credentials to access the database will be sent by e-mail and allow online work with the project data to print or export an individual report.
Projects are listed according to their main antigenic constituents: peptides, recombinant proteins, idiotype antibody, DNA (plasmid, expression vector), RNA, virus-like particles (VLP), dendritic cells, tumor cells (tumor cell lines), microorganism-based and others.
Of the 140 clinical stage cancer vaccines, three were approved and are commercialized in the major pharmaceutical markets with combined 2013 sales of US$ 2,385 mln. Peptides and proteins make out 43% of clinical stage cancer vaccines, followed by dendritic cell and tumor cell (line)-based cancer vaccines with each contributing 15% to the clinical cancer vaccine pipeline. DNA- and RNA-based cancer vaccines maked out 17% of the clinical portfolio.
To order this report:
Competitor Analysis: Cancer Vaccines
Contact: Shauna
800.298.5699
Customerservice(at)marketresearch(dot)com
La Merie Publishing
La Merie Business Intelligence is focused on Research and Development in the Biopharmaceutical Industry. La Merie provides information about biopharmaceutical R&D and competitive intelligence by Publishing, Consultancy and its Biotech Portal PipelineReview.com. The information is retrieved from La Merie's in house R&D database, news portal and direct as well as desktop searches. La Merie has a focus on Biologics, including antibodies, proteins, peptides, vaccines, RNA, DNA and cell therapy.
MarketResearch.com is the leading provider of global market intelligence products and services. With research reports from more than 720 top consulting and advisory firms, MarketResearch.com offers instant online access to the world's most extensive database of expert insights on global industries, companies, products, and trends. Moreover, MarketResearch.com's Research Specialists have in-depth knowledge of the publishers and the various types of reports in their respective industries and are ready to provide research assistance.
Follow us on Facebook http://www.facebook.com/marketresearchdotcom
Follow us on Twitter http://www.twitter.com/marketresearch_
Competitor Analysis: Cancer Vaccines - Table of Contents:
1. Cancer Vaccines by Main Composition
Peptide-based Cancer Vaccines
Protein-based Cancer Vaccines
Idiotype Antibody-based Cancer Vaccines
DNA-based Cancer Vaccines: naked and virally vectored
RNA-based Cancer Vaccines
Virus-Like Particle (VLP)-based Cancer Vaccines
Dendritic Cell-based Cancer Vaccines
Tumor Cell and Tumor Cell Line – based Cancer Vaccines
Microorganism-based Cancer Vaccines
Other and Not Defined Cancer Vaccines
2. Corporate Cancer Vaccines R&D Pipelines