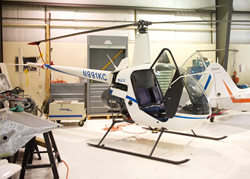 We want students to graduate as professional pilots with not only excellent flying skills, but also high levels of communication, decision making and professionalism required to be successful in today's job market.
Salt Lake City, Utah (PRWEB) March 28, 2014
Salt Lake Community College (SLCC) recently signed a contract with Leading Edge Aviation (LEA) as the Helicopter Provider for the SLCC Professional Pilot – Rotary Wing AAS Degree in Salt Lake City. LEA, based in Bend, Oregon was chosen through a state bidding process.
"Expansion into the Salt Lake City area in partnership with SLCC is a terrific opportunity to bring two outstanding programs together," Leading Edge Aviation CEO Keith Watson.
LEA has provided flight training in Central Oregon since 2006 and served over 200 students in 2013 alone. The SLCC program includes Private, Instrument, Commercial, Flight Instructor, Instrument Instructor, Turbine Transition, Mountain Flying, External Load and Night Vision Goggle flight courses in addition to a comprehensive academic element.
"Each course is centered around Scenario Based Training (SBT) initiatives and focuses on developing sound aeronautical decision making," said Jessica Parker, LEA director of marketing. "LEA is one of very few schools to truly implement SBT, and all LEA instructors are FITS Facilitators. SBT is the future of the training industry and will be an excellent addition to the SLCC curriculum."
The SLCC program will also continue to provide veterans access to flight training, including training under Chapter 31, 33, 30, 1606 and 1607. Because LEA's management is composed of veterans, its corporate culture demands a higher standard when it concerns the nation's veterans.
"LEA serves as good stewards of taxpayer dollars while developing the next generation of pilots," said LEA President Brad Fraley. "LEA will be a great addition to SLCC's award winning Veterans Center."
LEA officials say their commitment to fair pricing, maintaining the highest level of safety and competitive aircraft choice are part of the company's commitment to ensure veterans achieve their educational objectives and career goals.
The new partnership is part of SLCC's ongoing effort to provide quality ongoing helicopter pilot training in Utah.
"Students who train in Salt Lake have valuable access to mountain, desert and high altitude training within an hour's flight time," said Rick Bouillon, dean of Technical Specialties at SLCC. "We want students to graduate as professional pilots with not only excellent flying skills, but also high levels of communication, decision making and professionalism required to be successful in today's job market."