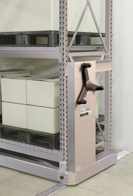 Fort Atkinson, WI (PRWEB) April 14, 2014
This much anticipated ActivRAC 7M-SS has been designed to meet the increasing demand for more storage capacity in clean room or corrosive environments. The stainless steel construction can withstand the most demanding and harsh environments, including temperatures below -4 degrees Fahrenheit. It can also withstand caustic cleaning solutions because it is constructed completely with stainless steel. The system has been designed with the following applications in mind:

Coastal Rigs
Pharmaceutical Manufacturing and clean rooms
Hospital sterile storage and clean rooms
Food manufacturing
Freezer/Cold Storage applications
Shipboard locations
The ActivRAC® 7M-SS provides true system flexibility to expand, move, or re-configure as well as the ability to travel over flat, but non-level floors, using patent pending designs and technology. Further, the mobilized storage carriages protect your existing storage investment because they have been designed to accommodate everything from 4-post shelving and drawer systems to cantilever shelving and even light to medium–duty pallet racking. Each carriage section (between the floor rails) is rated to a total weight capacity of 7,000 lbs.
"Cold storage rooms have high energy and operational costs, making expansion an expensive undertaking. ActivRAC 7M-SS is freeing up valuable square footage for companies to store more within existing freezer and cooler spaces," said Jim Muth, Spacesaver Industrial Vice President. "ActivRAC 7M Stainless Steel is designed to withstand cold temperatures, moisture build up, and harsh cleaning supplies, while still providing the safest, most reliable, durable, and easiest user operation available today."
Standard Features of the ActivRAC 7M-SS
Stainless steel structure and drive mechanism construction
Increase corrosion resistance in atmospheric and pure water environments, improved corrosion resistance to most acids, alkaline solutions, and chlorine bearing environments.
Hygiene – The easy cleaning ability of stainless make it the first choice for strict hygiene conditions, such as hospitals, pharmaceutical mfg., clean rooms, kitchens, abattoirs and other food processing plants.
7,000 lbs. capacity per carriage/wheel section
System flexibility – add on or move carriages to other locations as needed
Unleveled, surface mount or recessed rail options
Ergonomic handle with adjustable gear ratios to ensure ease of use, regardless of weight
Designed to work the existing racking, shelving, and drawer systems
User activated anti-roll safety lock prevents carriage movement, while aisle is in use
ActivRAC 7M-SS systems are sold through an independent network of handpicked who work in tandem with end-users, architects, and local building authorities to properly evaluate each application and recommend the most appropriate solution complete with cost justifications. The team also includes skilled Spacesaver Industrial sales and technical support representatives.
About Spacesaver Industrial
Spacesaver Industrial is a division of Spacesaver Corporation, and industry leader of high-density mobile storage systems; secure storage, locker storage and other storage solutions since 1972. The company has successfully installed more than 250,000 storage systems for leading companies and institutions across North America, including an untold number of industrial applications. Spacesaver Corporation, a division of KI, Green Bay, Wis., employs nearly 500 at its manufacturing facility in Fort Atkinson, Wis. The manufacturing plant, which has earned ISO 9001:2008, encompasses 358,000 square feet. From the manufacturing floor to the front office, the Spacesaver Industrial division has extensive experience in designing and manufacturing solutions exclusively for use in a diverse range of manufacturing operations, as well as companies focused on the warehousing, distribution, and logistics industries. For more information visit http://www.spacesaverindustrial.com.