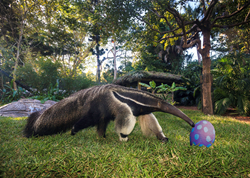 This Easter, the wild animals are doing the egg hunting at Naples Zoo.
Naples, Florida (PRWEB) March 31, 2014
There are lots of places around town where kids can hunt for Easter eggs, but just one place where wild animals do the hunting! And that's the focus of the fun during a special three-day event in Naples Zoo at Caribbean Gardens. From Good Friday, April 18 to Easter Sunda, April 20, 2014, zoo guests will enjoy watching animals claw and gnaw into special treat-filled eggs. And for the eighth year in a row, residents from Southwest Florida Brookdale Senior Living communities are helping out the Easter Bunny and Naples Zoo's professional keepers by preparing large colorful papier-mâché eggs for tigers, anteaters, honey badgers, and more.
Why give eggs to animals? Proper animal husbandry includes the basics of cleaning, behavioral observation, nutritional diets, record keeping, and veterinary care, as well as enrichment programs. Professional zookeepers develop enrichment activities to keep animals mentally stimulated. This includes not only the obvious toys for the animal to play with (or destroy), but also may include inter-species interaction, supplemental foraging activities, and even the use of scents to increase curiosity about objects. With a proper rotation of activities, animals have the opportunity to consistently engage in something fun or thought provoking. The various large Easter eggs will be scented and/or filled with small tasty treats appropriate to the species – from raw beef to fruity snacks.
About Brookdale
With an outstanding reputation in their field, Brookdale Senior Living currently operates more than 650 communities in 36 states and the ability to serve over 67,000 residents across the nation. The company is committed to providing an exceptional living experience through properties that are designed, purpose-built and operated to provide the highest-quality service, care and living accommodations for residents. Brookdale Senior Living communities provide a daily experience of programs, services and care that are unique as a result of the collective talents and inspiration of the residents, their families, and its associates including opportunities like this to provide enriching experiences for the rare animals at Naples Zoo! Learn more at http://www.brookdale.com or at http://www.facebook.com/brookdaleseniorliving or on Twitter @BrookdaleLiving.
About Naples Zoo
Nationally accredited as both a zoo and botanical garden, Naples Zoo at Caribbean Gardens is a 501(c)(3) nonprofit organization cooperating in conservation programs both in and outside the wild for endangered species. The all-day pay-one-price ticket includes admission to the 44-acre historic garden along with all shows, wildlife exhibits, and the boat ride. ($19.95 adults age 13+/ $12.95 children 3 to 12, under 3 free. Children under the age of 16 must be accompanied by an adult at least 18 years of age.) Giraffe feeding and camel rides are available for an additional fee. Zoo memberships and discount tickets are also available online at http://www.napleszoo.org. Naples Zoo welcomes guests daily from 9:00 to 5:00 with the last ticket sold at 4:00 and is located at 1590 Goodlette-Frank Road across from the Coastland Center mall in the heart of Naples. For more, click http://www.napleszoo.org, call (239) 262-5409, or LIKE them at http://www.facebook.com/napleszoo.