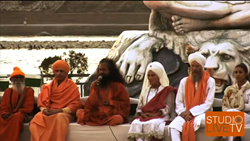 "It is so wonderful that Studio Live TV is making videos from the International Yoga Festival available for online viewing. Not everyone is fortunate enough to be able to travel to Rishikesh for this unique Festival..." Sadhvi Bhagawati Saraswati
Rishikesh, India (PRWEB) April 09, 2014
The International Yoga Festival is an unprecedented gathering of yoga masters and students from around the world, occurring once a year at Parmarth Niketan Ashram along the banks of the Ganga River. The event has a truly international flavor, boasting participants from six continents and over fifty countries. The festival highlights many of the traditional yoga styles from India and around the world.
Some of the festival's yoga offerings, which are available for online streaming via StudioLiveTV, include styles such as Jivamukti, Ashtanga, Iyengar, Reiki, Yoga Nidra, Anandam, Suksma, Sivananda, Kriya, and Power Pranayama. In addition to the over seventy hours of yoga coverage, StudioLiveTV also captured the daily Ganga Aarti ceremonies, exclusive interviews with renowned sages such as Swami Yogananda and Swami Veda, and a variety of educational videos on topics ranging from self-awareness workshops to historical lectures.
Featured instructors included Gabriela Bozic from Germany, Bhava Ram from San Diego, Yogi Cameron, Akira Watamoto from Japan, and H.S. Arun, an instructor originally from India who now travels throughout the world to teach.
To register for the festival's yoga offerings, go to StudioLiveTV and sign-up for a 90-day subscription for $21 ($7 per month), one month of unlimited viewing for $10, or start by trying a single class for $2.
Share the festival with friends and family via a StudioLiveTV gift certificate. Go to the "Buy Now" tab and select the gift option. StudioLiveTV will do the rest. What better way to give the gift of yoga than on-demand classes straight from yoga's birthplace?
StudioLiveTV brings a variety of classes and workshops online, to access anytime, anywhere. Yoga teachers, wellness experts, or studio owners/managers can contact StudioLiveTV for information about the different programs offered and how it is an easy way to create additional income.