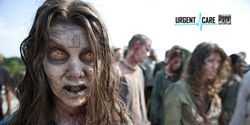 Come and get it! It's a scrolling buffet! All you can eat!
(PRWEB) March 28, 2014
In today's apocalyptic love craze it's easy to overlook key problems in society. Many people feel as though we have "zombies" walking among us. They're real people, but due to the culture and trends they have been drained of almost all traits that make them human. Take for instance the person that is glued to their cell phone. They wake up and have to check Facebook. After they get out of the shower they immediately look to their phone for more updates. Throughout the day their spare moments are spent glued to whats going in the social networking realm. It's even the last thing they do before they go to bed. These people are the "zombies".
Instead of looking at the people lets look at the source, "Zombie Facebook Pages". These are Facebook pages that at one time may have seemed like a viable and engaging place to connect. After time things began to change until one day it becomes undoubtedly apparent… They've been infected! Not only are these pages zombies themselves, but they infect others with the disease of complacency, laziness and neglect. This infection can be stopped, but it takes a keen eye to spot the symptoms. Once spotted treatment needs to be administered ASAP.
Here are the 5 signs to tell if a Facebook page is a zombie -
1. Zero New "Likes" In The Last 30 Days Or More- If a Facebook page has been infected one of the key signs is isolation from others. They know that they have been infected and to keep it from spreading they will distance themselves from the public. The only problem with this action is that part of the cure is social engagement and growth. Recommended treatment is to get help from friends, family and existing clients to grow the number of "likes" and ward off the infection.
2. Daily Updates With Zero Engagement – This symptom is one of the hardest to identify and the infection is in a class all of it's own. The Facebook page in question may have many followers and have consistent posts, but the key area to focus on is the engagement. Are the posts getting likes, comments or shares? If not, their Facebook followers may be zombies themselves. You will also notice that the posts seem somewhat robotic. These posts are more than likely coming from another source and may have been how the current Facebook page became infected. There's not much that can be done when a page reaches this level. It's recommended to just stay clear of these pages due to their resilience to treatment.
3. No Cover Photo – This is an easy one to spot and fix, unless any of the other 4 signs are visible. If this is the only sign then all that is needed is some graphic design attention. If other symptoms are present follow the procedures for that symptom first. The other 4 signs are far more life threatening.
4. Zero Updates For 30 Days Or More- This one is usually then next to happen if sign #1 is not treated in time. Due to discouragement, busyness and/or lack of interest, general Facebook health practices are neglected. Over time this will cause the development of the zombie infection. Like sign #1 the treatment is the same recruit the help of people close to the business. If that doesn't help consult a social networking professional before it's too late.
5. Non-responsiveness To Engagement – This sign is almost never a stand alone symptom. It's usually accompanied by signs 1, 3 and 4. If signs 1 and 3 go undetected this is what will trigger the awareness. Customers are trying to send messages or they are asking questions in comments, but there is no reply. Since this is again the same kind of infection as signs 1, 3 and 4 the treatment is the same. If all 4 of those symptoms are present it may however be too late for a typical treatment program. The only option may be turning to a professional.
Although this article is set with a humorous tone the issues are real. This is an area that Urgent Care 2.0 specializes in. Urgent Care 2.0's primary focus is urgent care marketing with social networking being one of the many services offered. Urgent Care 2.0 also offers a free consultation. Click here to request a free consultation.
Read the full article on Urgent Care 2.0's website - http://www.urgentcare2point0.com/5-signs-your-facebook-page-might-be-a-zombie/.