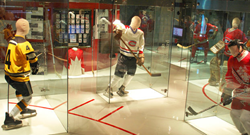 We're proud that our products were selected for use in such an interesting way, and for such a great cause. - Ken Freestone
Valparaiso, Indiana (PRWEB) March 30, 2014
Elite Crete Systems has announced the Canadian Sports Hall of Fame used the company's proprietary HERMETIC™ Epoxy Floor System to create the hockey rink floor for the Hall of Fame's new ice hockey exhibit. Installed and completed by Hardscapes, Inc. out of Calgary, Alberta, the new floor is the perfect complement to the Hall of Fame's exhibit.
The new floor was constructed using white E100-PT4™ 100% Solids Pigmented Epoxy and clear E100-UV1™ 100% Solids Clear Epoxy coatings. The result was a floor that perfectly mimicked the ice-cold surface of a hockey rink to underscore the Hall of Fame's exhibit items, which include manikins sporting the uniforms, skates, hockey sticks and other gear of Hall of Fame inductees.
Ken Freestone of Elite Crete Systems stated, "We're proud that our products were selected for use in such an interesting way, and for such a great cause. Our HERMETIC™ Epoxy Floor System is an excellent choice for its durability and strength, but the Hall of Fame and Hardscape's, Inc. certainly created a thing of beauty."
HERMETIC™ flooring system is an ideal option for durability, resilience and strength in applications where longevity and performance are paramount considerations. Elite Crete Systems' products are used throughout manufacturing facilities, aircraft hangers, retail locations, restaurants, manufacturing plants and more. The flooring system allows color blending with the coating, ensuring that architects and designers are able to create not only a durable, long-lived surface, but an aesthetically pleasing design as well.
The Canadian Sports Hall of Fame ice hockey exhibit is just one example of how creativity fused with high-quality flooring materials can lead to stunning custom results. Elite Crete Systems offers additional options for epoxy flooring, including thicker repair systems, high-performance NOVOLAC coatings, increased slip resistance and a range of finishes.
To find out more about Elite Crete Systems and the company's range of high-quality flooring solutions, visit http://www.EliteCrete.com.
About Elite Crete Systems: Elite Crete Systems is a worldwide developer and manufacturer of specialty, high-performance building products for a range of applications, including retail, hospitality, hotels, shopping males, restaurants and manufacturing facilities.