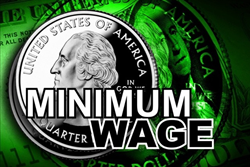 "Maintaining up to-date minimum wage rates for hourly employees is critical for our clients to ensure compliance with Federal and State laws, as well as correct calculation of payment of overtime wages due," said Peter Dehlinger, President of Gatekeeper
Deerfield Beach, FL (PRWEB) March 30, 2014
Gatekeeper Business Solutions labor management software has features to enable clients to improve compliance with applicable minimum wage laws. The payroll software reduces concern for clients, by continually, monitoring all state and federal minimum wage laws and ensuring that the software conforms to the correct law at the current moment.
The minimum wage elements complement version 8 Labor Management System Installed with Payroll or lms.net, Software as a Service (SaaS), via the web. The Labor Management System provides appropriate minimum wage updates to correctly calculate payroll and eliminate any unnecessary penalties.
"Maintaining up to-date minimum wage rates for hourly employees is critical for our clients to ensure compliance with Federal and State laws, as well as correct calculation of payment of overtime wages due," said Peter Dehlinger, President of Gatekeeper Business Solutions.
Gatekeeper Business Solutions offers a user friendly labor management system that creates measureable savings in labor costs, improves administrative productivity and increases revenue. Gatekeeper is also a leading provider of multiple data collection devices including labor saving biometric clocks, and a Work Time application for PC terminals allowing for ease of data input into a labor management system.
About Gatekeeper Business Solutions, Inc.
Gatekeeper Business Solutions, Inc., a labor management systems company, offers a proprietary suite of software tools (LMS) that includes time and attendance, scheduling, and integrated payroll software, for midlevel private and public sector companies. The company has provided a broad range of technology based solutions to manage labor costs to clients nationally. For more information, please visit the company's web site at http://www.gatekeepersolutions.com.
Media Contact:
Christine Smith
Gatekeeper Business Solutions
888.428.3577
csmith(at)gatekeepersolutions(dot)com