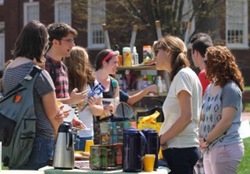 "Research shows young women develop brand loyalty at an early age, and feminine care companies are increasingly marketing to young women," said Erin Switalski, Executive Director.
Marin County, CA (PRWEB) April 01, 2014
A youth-led non-profit, Teens Turning Green, has partnered with Women's Voices for the Earth's Detox the Box campaign to advocate for healthier feminine products during a tour about green living aimed at mobilizing college students across the U.S.
The goal is to excite college students about sustainability projects, including reducing toxic chemical exposure, on university campuses, educating students, faculty, staff and environmental leaders at colleges nationwide and then implementing one specific initiative on each campus.
"Research shows young women develop brand loyalty at an early age, and feminine care companies are increasingly marketing to young women," explained Erin Switalski, Executive Director at WVE. "College age women have a great deal of of economic power to influence companies to make safer products."
The six-week Conscious College tour began March 24 at Rice University in Houston and continues on to 14 universities (scroll down for full list), as well as speaking engagements at Greenfest in New York City and Sustaintopia in Miami.
Members of the traveling TTG team include founder/director Judi Shils, co-founder and spokesperson Erin Schrode, and key student leaders. Each campus stop lasts two days and includes a Conscious Information Station that features product sampling, hands-on demos, activities, and conversation, as well as a Town Hall Meeting where students, faculty, and campus leaders determine a sustainability project to be developed on campus with support from TTG. TTG will also interview women about their knowledge of the safety of feminine products and distribute WVE's new "Detox the Box" wallet guide outlining the hazards of toxic chemicals in tampons.
"We are thrilled to be the first stop on TTG's Conscious College Road Tour," added Ashley Ugarte, a junior at Rice University and president of TTG's Advisory Board. "Rice has been making huge strides in efforts toward a more sustainable campus, and this is a great opportunity for students to become empowered to transition their lives from conventional to conscious and to begin the conversation around greening Orientation Week for our incoming freshman."
For more information or to get involved, visit TeensTurningGreen.org, email info@teensturninggreen.org or call (415) 289-1001. Follow the journey and join us on Facebook, Twitter @TeensTurnGreen, Instagram @TeensTurningGreen and #ConsciousCollege.
Teens Turning Green is a student-led movement devoted to education and advocacy around environmentally sustainable and socially responsible choices for individuals, schools, and communities. TTG seeks to engage youth in the transition from conventional to conscious, empowering the next generation and mobilizing action to sustain a healthy, just, and thriving planet.
Founded in 1995, Women's Voices for the Earth amplifies women's voices to eliminate the toxic chemicals that harm our health and communities. With thousands of members across the United States, WVE changes corporate practices, holds government accountable, and works to ensure a toxic-free future for all. Learn more at http://www.womensvoices.org.
Participating Schools
Rice University (Houston, TX), University of Louisville (Louisville, KY), Humboldt State University (Humboldt, CA), Chico State University (Chico, CA), Virginia Tech University (Blacksburg, VA), The Ohio State University (Columbus, OH), Oberlin College (Oberlin, OH), Kutztown State University (Kutztown, PA), Skidmore College (Saratoga Springs, NY), Columbia College , Barnard College (New York, NY) Georgetown University (Washington, DC), University of Delaware (Newark, DE), Johns Hopkins University (Baltimore, MD) Cornell University (Ithaca, NY)
Road Tour Partners
The TTG Conscious College Road Tour is made possible through partnerships with like-minded champions of sustainability and the environment, including Platinum Sponsors: Acure Organics, Whole Foods Market, Suja Juice, Kimpton Hotels & Restaurants, the Lisa & Douglas Goldman Fund, Silver Sponsors: Aubrey Organics, Avis, Desert Essence, Dr. Bronner's Magic Soaps, Guayaki Yerba Mate, JetBlue, Klean Kanteen, Natracare, Nutiva, Bronze Sponsors: Gaia Herbs, Under the Canopy, and Numi Tea, and Copper Sponsors; Ecojot, RW Garcia, and Vermont Soap.
###