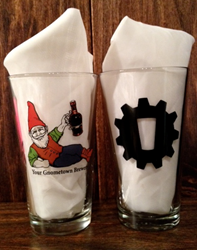 Sylva, North Carolina (PRWEB) March 28, 2014
This quiet mountain town boasts two uniquely different micro-breweries flanking Main Street; both regularly entice locals and visitors alike and together the breweries are a great pair. Heinzelmännchen Brewery, which crafts top-fermenting German altbier, has long been the town's craft beer hot spot, and the new Innovation Brewing adds an experimental quality with its twists on traditional styles. Additionally, both breweries are within walking distance of cool restaurants and live music venues.
At Heinzelmännchen Brewery, named one of Trip Advisor's Top 10 brewery tours in the U.S., German-born brewmaster Dieter Kuhn & his wife Sheryl Rudd create light, refreshing, award-winning German beer made with fresh hops, wholesome grains and no preservatives. All of the brewery's beers are keg conditioned and non-filtered, making them smooth and lighter in body for all to enjoy. The brewery will also celebrate its 10th anniversary this April. Just down Main Street, Innovations Brewing owners, Nicole Dexter and Chip Owens, opened the micro-brewery last fall and are already being heralded for constantly evolving and crafting new and unique beer styles on a regular basis. The brewery loves to experiment with a variety of fun and fresh ingredients to stimulate both guests' palates and senses.
While each brewery is offering specials and events throughout April in celebration of North Carolina Beer Month below are a few events that locals and visitors shouldn't miss.
•Mountain Beer Vacation (April 1-30) - Enjoy a two-night stay at Sunset Farm Cabins, tour of Heinzelmännchen Brewery, two engraved 15-oz sports mugs, "Your Gnometown Cookbook" and a set of Heinzelmännchen coasters.
•Support Your Local Breweries and Save (April 1-30) - Purchase a pint glass from Heinzelmännchen Brewery or Innovation Brewing, then take it to the other brewery to show proof of purchase and get $1 off their pint glass.
•Books, Bites and Brews (April 3, 7 p.m.) - Meet Daniel Hartis, author of newly published book "Beer Lover's the Carolinas", at City Lights Bookstore, enjoy delicious bites from City Lights Cafe and handcrafted beers from Heinzelmännchen Brewery and Innovation Brewing.
•Local Beer! Local Cheese! (April 10, 5-9 p.m.) - City Lights Cafe is the host for Looking Glass Creamery, Heinzelmännchen Brewery and Innovation Brewing when they team up to bring you an evening of cheese and beer, all locally made.
•Handcrafted Beer, Handcrafted Vessels (April 11, 5-7 p.m.) - It's By Nature Gallery will feature a collection of handcrafted mugs and steins created by regional artists along with samples of handcrafted beer by Heinzelmännchen Brewery and Innovation Brewing.
•Beer Dinner (April 15, 6:30 p.m.) - City Lights Cafe will provide a six-course tapas menu created specifically to pair with exceptionally flavored handcrafted beers from Heinzelmännchen Brewery and Innovation Brewing. Purchase tickets in advance from City Lights Café.
•Collaboration Release in the Gardens (April 26) - Join Heinzelmännchen Brewery and Innovation Brewing at McGuire Gardens for Raspalachian Wheat, A Heinz-Syl-Vation Collaboration Ale. This Raspberry Wheat Session Beer will be offered plus other favorites from both breweries. The collaboration release takes place during Downtown Sylva's Annual Greening Up the Mountains Festival. Visitors can pick up great handmade crafts from around the region, enjoy a handcrafted beer in the Gardens and listen to great music.
Jackson County Restaurant and Beer Pairings:
•Balsam Mountain Inn
Pairings: Sunburst Mountain Trout (local): Grilled Mountain Trout with butter and dill, Trout Amandine, and Smoked Trout Dip, all paired with either a Green Man IPA from Green Man Brewing or Shiva IPA from the Asheville Brewing Company.
http://www.BalsamMountainInn.net
•Cornucopia
Cashier's oldest restaurant
Pairing: Pimento Cheese Burger with fried pickles and applewood smoked bacon paired with Nantahala IPA from Bryson City.
http://www.cornucopianc.com
•Creekside Oyster House & Grill
Pairings: Steamer Buckets: crab legs, mussels, oysters, shrimp, hushpuppies and sides paired with Sierra Nevada Pale Ale (brewed in NC); Price: for one 19.95, for two 32.95
Blackened Mahi Mahi Dinner with Highland Gaelic ale; 15.95
Blackened Trout Dinner with Highland Gaelic ale; 13.95
Hot or Mild Garlic Wing Appetizer or any extra blackened sandwich or dinner with Green Man Hoppy Darker Amber; for 9.95
http://www.creeksideoysterhouse.com
•High Hampton Inn
Pairings: North Carolina Trout with Roasted Corn Salsa paired with Oskar Blues' Mamas Little Yella Pils Cheddar and Ale Bisque paired with Oskar Blues' Dale's Pale Ale (brewed in Brevard, NC)
http://www.HighHamptonInn.com
•No Name Sports Pub (Sylva)
Pairings: Black and Blue Hamburger paired with Moca Stout from Highlands Brewing; price for both $13.50
Bar-B-Que Sandwich paired with Kbar IPA from Rail House Brewery; price for both $13.50
Veggie Wrap paired with FCA IPA from Rail House Brewery; price for both $11.50
Jumbo Chicken Wings paired with Shiba Amber IPA from Asheville Brewing; price for both $13.50
Cuban Sandwich paired with Gaelic Ale from Highlands Brewing; price for both $13.50
http://www.nonamesportspub.com
•O'Malley's of Sylva
Pairings: Sweet Tea Brined Fried Chicken paired with Asheville Brewing Company Ninja Porter from Asheville Brewing Company. Fried Green Tomato BLT paired with Highland St. Terese's Pale Ale from Highland Brewing.
•Slabtown Pizza
Pairings: Old Bay Dry-rubbed Jumbo Chicken Wings paired with Brevard Brewing Company's Bohemian Pilsner
http://www.cashiersareachamber.com/directory/item/998-slab-town-pizza-stp
About Jackson County:
Cashiers, Cherokee, Dillsboro, Sylva, Balsam, Cullowhee, Glenville and Sapphire are the distinct locales that make up Western North Carolina's Jackson County, a place of lofty peaks, rushing water and spectacular scenery. Each of these Blue Ridge Mountain towns provide rich natural beauty that invites visitors to experience the idyllic North Carolina Mountains. Explore miles of hiking trails surrounded by unspoiled forests or discover the area's shopping, dining, culture, and hometown atmosphere. Experience the thrill of river rafting and tubing or the more laid back adventures of fly fishing, boating, golf, or a scenic drive on the Blue Ridge Parkway. For more information visit, http://mountainlovers.com.