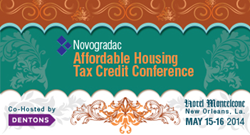 San Francisco (PRWEB) March 28, 2014
Several recently enacted regulatory changes have the potential to change the outlook for the affordable housing industry and the low-income housing tax credit (LIHTC). Approved amendments to the Financial Accounting Standards Board's (FASB's) Generally Accepted Accounting Principles (GAAP) for LIHTC investments and new guidance for the Community Reinvestment Act (CRA) may attract new investors and increase the amount of investment in affordable multifamily rental housing. Meanwhile, the possibility of extending the 9 percent LIHTC floor for at least another year as part of a larger package of tax extenders could be a game-changer if it allows for more equity to be raised for the development and the preservation of affordable housing.
To network and discuss these issues, affordable housing professionals will gather at the Novogradac Affordable Housing Tax Credit Conference May 15-16 in New Orleans, La. The two-day conference at the Hotel Monteleone will feature panels of developers, investors, lenders, attorneys, accountants and other industry professionals who will discuss the latest industry news and issues, such as Year 15 dispositions, the use of state LIHTCs to fill financing gaps and the current state of equity and debt markets.
"Recent developments in the low-income housing tax credit industry pose a variety of intriguing opportunities that could help tax credit professionals address the growing demand for affordable housing in this country," said George Littlejohn, CPA, conference chairman and partner in Novogradac & Company LLP's Austin, Texas office. "This conference offers attendees expert strategic and technical guidance from key housing players that will help put them at the forefront of our industry's exciting changes."
Attendees will have ample opportunity to network with more than 250 affordable housing professionals, including active tax equity investors, project developers, lenders and many other industry professionals and participants during the numerous session breaks and a cocktail reception to be held on Thursday, May 15 from 5 p.m. to 6:30 p.m.
The Novogradac LIHTC Property Compliance Workshop will also be held on May 15-16 at the Hotel Monteleone. It will cover topics such as multiple building elections, calculating rent and income limits, recertification and record retention. Attendees will have the opportunity to take the Novogradac Property Compliance Certification (NPCC) exam or the Housing Credit Certified Professional (HCCP) exam at the end of the workshop. Registration for the compliance workshop is separate.
Additionally, three pre-conference workshops, LIHTC 101: The Basics, LIHTC 201: Beyond the Basics and LIHTC 301: Advanced LIHTC Financing, will be held on Wednesday, May 14 to help attendees learn about LIHTC fundamentals. Pre-conference workshop registration is separate and optional. Additional fees apply.
The Novogradac Affordable Housing Tax Credit Conference is co-hosted by Dentons and Squire Sanders. Sponsors are Hunt, Stratford Capital Group, City Real Estate Advisors, Pillsbury, Coats Rose, Affordable Housing Partners Inc., Enterprise, Jones Walker, PNC Real Estate, Prudential, R4 Capital, Wentwood Capital Advisors and WNC. Exhibitors are Butler Snow, CMR Risk & Insurance Services Inc. and LSA Capital.
Conference details and the complete conference agenda can be found at http://www.novoco.com/events/conferences/lihtc/2014/new_orleans/index.php.
Novogradac began operations in 1989, and the allied group of Novogradac companies has since grown to more than 500 employees and partners with offices in San Francisco and Long Beach, Calif.; the Washington, D.C., Atlanta, Ga., Detroit, Mich., Kansas City, Mo. and Seattle, Wash. metro areas; St. Louis, Mo., Boston, Mass.; Austin, Texas; Dover, Columbus and Cleveland, Ohio; New York, N.Y.; and Portland, Ore. Specialty practice areas include tax, audit and consulting services for tax-credit-assisted multifamily and affordable housing, community revitalization and rehabilitation of historic properties. Other areas of expertise include military base redevelopment, preparation and analysis of market studies and appraisals of multifamily housing investments and renewable energy tax credits.
For more information about the Novogradac Affordable Housing Tax Credit Conference, please contact Teri Baker at (415) 356-7995 or by email at Teri.Baker(at)novoco(dot)com.