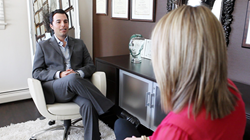 He has multiple board certifications in Facial Plastic and Reconstructive Surgery, as well as head and neck surgery.
Philadelphia, PA (PRWEB) March 29, 2014
Dr. Anthony Corrado is an experienced facial plastic surgeon serving patients in and around the Philadelphia area. He has multiple board certifications in Facial Plastic and Reconstructive Surgery, as well as head and neck surgery. When seeking a plastic surgeon to assist with aesthetic goals, Dr. Corrado would like to encourage you to learn more about his highly specialized Stratford, NJ, practice. There, he and his dedicated staff proudly and consistently make aesthetic dreams a reality.
With a vast array of introductory and educational videos, revealing proof of Dr. Corrado's character and passion for his work throughout the website. His professional goal has always been to provide the diligent care necessary to ensure a safe, pleasant experience from the moment a patient sits in his office to the celebratory removal of their last bandage. These details and many more can be revealed through interviews with him on various topics found throughout his website.
After being convinced of Dr. Corrado's professionalism and commitment to his craft, prepare to be wowed by numerous examples of natural-looking results found in his Before and After section.
Dr. Corrado operates a boutique practice focusing exclusively on facial plastic surgery. Being able to hone his skills in one specific area has helped him to achieve a rare level of expertise, which ultimately shines through in his work, one life transformation at a time.
Throughout his development, Dr. Corrado's training has been gearing him towards the head and neck region, giving him extensive knowledge into the detailed anatomy of the face and surrounding tissues. This affords him unparalleled expertise regarding the specifics of facial plastic surgery, a sector widely considered to be the most challenging of all cosmetic procedures due to the delicate and intricate nature of the operations. Dr. Corrado has embraced this challenge in his practice as he continues to provide his clients with immaculate, natural-looking results he can stand behind.
Dr. Anthony Corrado
42 E. Laurel Road Suite 2500
Stratford, NJ 08084
Local phone: (856) 344-5906
Toll free: 1 (877) 481-FACE (3223)
Hours of Operation:
8:00 A.M. – 5:00 P.M. Monday – Friday by appointment
Evening and weekend hours by special arrangement.