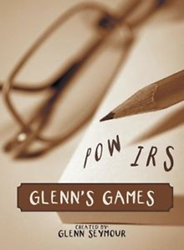 Rossville, IL (PRWEB) March 31, 2014
At the age of 90, Glenn Seymour had no intention of sitting idly in his senior living apartment.
Inspired to stay active both mentally and physically, he created a series of brainteasers, puzzles and games to stimulate his brain and bring together his fellow residents.
In "Glenn's Games," he shared these activities through a creative and entertaining puzzle book filled with mental challenges and brain exercises.
It covers a variety of topics like animals, around the house, definitions, flowers and trees, geography, math, product names, school, words, radio and television.
His goal was for readers to view the book as a fun and enlightening tool to inspire readers, both young and old, to think outside the box.
"Glenn's Games"
By Glenn Seymour
Softcover: $22.95, 978-1-49183-251-6
E-Book: $3.99, 978-1-49183-250-9
Available at amazon.com, barnesandnoble.com, authorhouse.com.
About the Author
Glenn Seymour was a father, grandfather and great grandfather who loved his family, gardening, stamp and coin collecting, refurbishing old houses and the Methodist Church. He was a lifelong resident of Rossville, Illinois and was a recipient of the American Family Award from the village of Rossville in 1989 in honor of his family's exemplary values and service to the community.