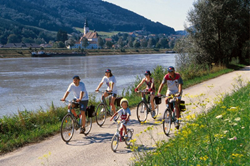 The top tours we recommend for first-timers have modest daily distances and difficulty levels and easy-to-navigate routes or a guide to direct you. - Jim Johnson, BikeToursDirect President
Chattanooga, TN (PRWEB) March 31, 2014
An increasing number of travelers are disembarking from bus- and train-based tours for the first time in favor of overseas exploration on two wheels. Bicycle tours continue to grow in popularity as travelers find great options to ease into adventure travel with manageable riding distances, easy-to-follow routes, and a variety of budget-friendly itineraries. BikeToursDirect, which sends thousands of travelers on overseas bicycle tours each year, offers these tips and top tour suggestions for travelers seeking to take their first vacation by bike.
BikeToursDirect suggests several important factors to consider when helping first-time bike travelers choose the right tour:

Establishing realistic expectations about how far you want to ride each day prevents choosing a tour with daily mileage you may not be ready for. The less ambitious are also reminded that 20-30 miles per day is not as strenuous as it might sound when taken at a leisurely pace .
Be careful not to overestimate your ability level. A good overall fitness level does not necessarily equate to a comfortable cycling experience, so when in doubt, choose a tour with a lower difficulty level than you think you might be able to handle.
Electric bikes are now available on many tours and are a great option for those who are not quite confident in their ability to take on the pace, terrain, or distance. The small, hidden motors give you a boost as you pedal and act as equalizers for groups with varying ability levels.
More tips are available at http://www.biketours.com/first-timers.
"We often hear from travelers who are curious about bicycle touring but need the reassurance that they're now about to embark on the Tour de France," says Jim Johnson, president of BikeToursDirect. "The top tours we recommend for first-timers have modest daily distances and difficulty levels and easy-to-navigate routes or a guide to direct you."
Here are the top picks for first-time bike travelers by BikeToursDirect -- and their clients:
1. Danube Bike Path (Germany & Austria)
Offering nearly carefree cycling and an ideal way to view the region, the Danube Bike Path passes through picturesque towns and villages and across lush farmland. It's paved and almost traffic-free, following along a majestic river where you pass romantic castles, cozy villages and sprawling vineyards.
2. Lake Constance Bicycle Path (Germany, Austria & Switzerland)
Cycle around the entire lake and get to know three countries and four islands highlighting medieval towns and amazing landscapes, and romantic villages along a backdrop of the Alps.
3. Bruges to Brussels by Bike and Boat (Belgium)
Cycle beautiful cities everyday without having to pack and unpack to reach your next destination. Daily, guided tours will lead you through a variety of beautiful, flat landscapes and many picturesque towns.
4. Burgundy Wine Trails (France)
Burgundy is a fabulous region for a cycling tour: quiet roads, nice accommodations, many vineyards and domains to sample wine, and great cuisine.
5.Mekong Delta (Vietnam)
Cycle on quiet roads through rice fields and small islands with bamboo homes and floating markets. Visit and dine with the locals and travel to the Cambodian border where Vietnamese and Cambodian cultures merge. Great for first-timers with a more adventurous side!
6. Paris to London (France & England)
Two majestic capitals now linked by cycle paths and low-traffic roads. From Paris, travel the Seine and Epte river valley to reach the sea. After the Deippe-Newhaven crossing, bike on to the greenest English countryside in to London.
7. Bulgaria
One day you'll bike past donkey carts and horse carriages in the countryside, then you'll visit energetic cities with modern business life in this country of many contrasts. This tour through Bulgaria features marvelous hotels in idyllic scenery, pristine nature with a wide variety of flora and fauna, and many points of interest along the way.
BikeToursDirect serves as a central resource for bicycle tours worldwide, representing more than 100 local bicycle tour companies that offer 400 tours in 70 countries in Europe, Asia, Africa, Australia and the Americas. BikeToursDirect offers a variety of resources to help travelers search for and choose tours and handles the entire booking and payment process. Learn more at http://www.biketoursdirect.com.
# # #