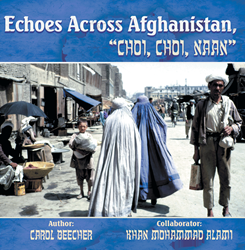 (The author's) detailed descriptions of her time in Afghanistan, paired with dozens of photos, richly capture a time she will never forget.
North, Va. (PRWEB) May 08, 2014
Joining the Peace Corps to vaccinate women and children in Afghanistan against smallpox changed Carol Beecher's life. This new book details that time in her life and the project, which proved to the World Health Organization of the United Nations that such a model could help eradicate other communicable diseases around the world. Intertwined with her story is that of Khan Mohammad Alami, a young Pashtun man chosen to help Carol and her team and to vaccinate men and boys.
"Echoes Across Afghanistan, 'Choi, Choi, Naan' " describes some of the training the volunteers faced – from digging their own latrines and learning Farsi to obtaining shelter and food in other communities – as well as the experiences the women had while pursuing their mission in 1967-69. Beecher and 19 other women traveled with mobile vaccination teams, living without modern amenities like indoor plumbing, toilets and electricity, sleeping each night on a dirt floor in a different village. Naan, a simple bread cooked in small ovens, was a staple of their diet. Celebrating Thanksgiving takes on new meaning, and the girls bond over their tribulations and triumphs.
Back at home and working in California, Beecher gets a phone call that brings back her Peace Corps work in a flash: Alami is now Khan living in Herndon, Va., and working for Voice of America. He flies to California, and he relays his incredible story, from working with the training center for the Peace Corps and for the U.S. Embassy in Kabul during the Soviet invasion, to being arrested, interrogated and tortured by the secret police. Alami and his wife and three children survive a harrowing escape to Pakistan, eventually making their way to the United States.
Beecher's detailed descriptions of her time in Afghanistan, paired with dozens of photos, richly capture a time she will never forget. She writes that she hopes the book will be a reminder of the warmth and hospitality the people of Afghanistan offered before they feared violence and its effect on every aspect of their lives.
Author Carol Beecher earned a bachelor's degree from Pennsylvania State University and a master's degree from Chapman College after growing up on a small farm in Pennsylvania. She vaccinated women and children against smallpox in Afghanistan as a Peace Corps volunteer and worked in federal civil service until retiring.
----------
For additional information, please visit http://www.EchoesAcrossAfghanistan.com.
Echoes Across Afghanistan, "Choi, Choi, Naan"
Carol Beecher
Dog Ear Publishing
ISBN: 978-1-4575-2210-9
156 pages
$19.95 US
Available at Ingram, Amazon.com, Barnes & Noble and fine bookstores everywhere.
About Dog Ear Publishing, LLC
Dog Ear Publishing offers completely customized self-publishing services for independent authors. We provide cost-effective, fast, and highly profitable services to publish and distribute independently published books. Our book publishing and distribution services reach worldwide. Dog Ear authors retain all rights and complete creative control throughout the entire self-publishing process. Self-publishing services are available globally at http://www.dogearpublishing.net and from our offices in Indianapolis.
Dog Ear Publishing – self-publishing that actually makes sense.