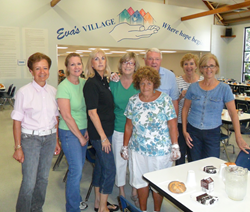 Paterson, New Jersey (PRWEB) March 31, 2014
National Volunteer Week (April 16-13, 2014) is a time to celebrate people doing extraordinary things through service. Established in 1974, National Volunteer Week focuses national attention on the impact and power of volunteerism and service as an integral aspect of our civic leadership. The week draws the support and endorsement of the president and Congress, governors, mayors and municipal leaders, as well as corporate and community groups across the country.
Eva's Village, Paterson NJ, has depended upon the support of volunteers since it first opened its doors in 1982. Each weekday in their Community Kitchen volunteers help serve the noon meal to the more than 300 homeless and working poor that come each day for a hot meal. During the weekends volunteer groups from churches throughout Northern New Jersey cook and serve the noon meal. "We are truly blessed to have so many dedicated volunteers that give their time so freely to assist us in our mission," stated Marie Reger, executive director at Eva's Village. "Our volunteers come from all walks of life, corporate teams, retired professionals, community organizations, students and more."
The Workforce Development Program at Eva's Village is run completely by volunteers. Each Tuesday and Thursday a group of volunteers assist clients in creating cover letters and resumes, and help them search and apply for employment. Twice a month corporate teams conduct Mock Job Fairs giving clients the opportunity to practice and improve their interviewing skills. "My colleagues and I from CBRE found our recent experience with Eva's Village Mock Job Fair to be extremely rewarding," states Rémy deVarenne Jr., senior vice president at CBRE. "Having worked with Eva's Village for a number of years, I continue to be inspired by the great work done there. We look forward to working with the wonderful people at Eva's Village in the future as they continue to expand their programs to help more people."
National Volunteer Week is about recognizing and thanking volunteers who help many non-profit organizations meet their challenges and accomplish their goals. Eva's Village celebrates the compassion and beautiful acts of kindness demonstrated each day by its volunteers through a celebration dinner at Eva's Community Kitchen on April 6, 2014 from 4:00pm – 6:00pm. The dinner will be catered by Rod's Steak and Seafood Grille and The Culinary School of Eva's Village.
About The Culinary School at Eva's Village
The Culinary School at Eva's Village is a private vocational school certified by the state of New Jersey. The school was established to provide job training and placement in the food service industry for adults interested in attaining careers in the culinary profession. The five-month course provides fundamental cookery skills appropriate to basic positions in professional food preparation.
For application information on The Culinary School at Eva's Village, contact: Donna Marie Fico, Director of Marketing & Education – Phone: (973) 523-6220 Ext. 230 or email Culinary.School(at)evasvillage(dot)org.
About Eva's Village
Eva's Village (http://www.evasvillage.org), originally a New Jersey soup kitchen, was founded in 1982 by Msgr. Vincent E. Puma in response to the increasing incidence of homelessness in his Paterson, NJ parish. But Msgr. Puma soon realized that a soup kitchen was not enough. With the generous support of thousands of donors and private and government grants, Eva's has grown into the most respected anti-poverty program in New Jersey. Their mission is to feed the hungry, shelter the homeless, treat the addicted and provide medical and dental care to the poor with respect for the human dignity of each individual.
If you would be interested in volunteering at Eva's Village please reach out to Jennifer Doherty, Eva's Volunteer Coordinator, at Jennifer.Doherty(at)evasvillage(dot)org or call 973.523.6220, ext. 248.