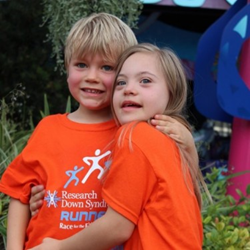 Charleston, South Carolina (PRWEB) March 30, 2014
After running 3.21 miles in the March 21 World Down Syndrome Day Virtual Run/Walk, six-year-old Lucas Helferich, son of Michelle and Joe Helferich, asked if this run only happened on "Down Syndrome Day" because he wanted to do another run. Michelle explained to Lucas that the logo on their shirts was for RDS Runners and if he really wanted to, he could run in another race and other people could support him by donating to his run. Michelle told Lucas that the money he raised would be given to scientists who are doing research to help people with Down syndrome. He said he wanted to do that and told his sister, Kayla, who has Down syndrome, "I'm going to run to help you Kayla. I'm going to run for you."
Lucas' first run to help his sister and others is the Cooper River Bridge Kids Run in Charleston, South Carolina. Kayla will be running/walking in this one-mile event as well.
More information on Lucas' run may be found here.
RDS Runners is the national program to increase public awareness of and support for Down syndrome research. RDS Runners participate in events of all distances across the country, supporting The Research Down Syndrome Foundation's mission to support research aimed at developing safe and approved drug therapies to improve memory and learning in individuals with Down syndrome. The foundation also contributes to bio-medical studies directed at identifying therapies that might reduce the impact of Alzheimer's disease in persons with Down syndrome, as there is a 3-5 fold increased incidence of Alzheimer's in persons with Down syndrome.
The RDS Runners program is a charity partner with prestigious running events across the country, such as New York City and Chicago marathons. In addition, runners interested in supporting Down syndrome research have participated in runs as short as 1 km and as long as 100 miles. More about RDS Runners.
++++++++++++++++++++++++++++++++++++++++++++++
About Research Down Syndrome
Research Down Syndrome (RDS) is among the leading sources of private funding for Down syndrome related cognitive research. RDS supports and funds Down syndrome cognitive research conducted at research institutions that are studying the basis of the intellectual impairments associated with Down syndrome, including Alzheimer's disease. Research Down Syndrome is a legal corporate entity, and is a 501(c) (3) nonprofit organization designated by the Internal Revenue Code. For more information, go to http://www.researchds.org, or contact RDS: info(at)researchds(dot)org or 847.710.2251.