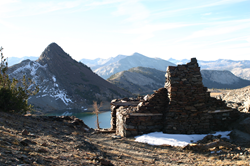 Oakhurst, CA (PRWEB) March 29, 2014
Starting on Saturday, April 5, Tony Krizan, local adventurer, author & photographer will share his 30 plus years of hiking experiences and photos with this exciting series. The series kicks off with "Great Sierra Mines and trails along Tioga Pass Road". This slide show presentation will feature the area west of Tioga Pass Road and will feature a special segment for those who have an interest in the history of old gold mines.
This is one of the many local events scheduled to honor President Abraham Lincoln's signing of the Yosemite Grant Act on June 30, 1864.
The 6-event series will feature wilderness hiking trails within the mountains surrounding Yosemite. Tony's slide show presentation will allow you to experience the trails and endless views from various mountain locations and learn about their history.
The series will run monthly from April thru September 2014. The presentation will be in the lobby of the Yosemite Southgate Hotel & Suites located on Highway 41 in Oakhurst from 7:30 to 8:30 pm on the dates listed below. The presentation is open to the public and is free of charge. Refreshments will be provided.
Saturday, April 5 - Great Sierra Mines and trails along Tioga Pass Road
Saturday, May 10 - Minaret Mountain Adventure
Saturday, June 21 - Wawona Old Stagecoach Road
Saturday, July 19 - Lost in Kings Canyon, Curtis Wright P40 Aircraft
Saturday, August 16 - Minaret Mountain Adventure
Saturday, September 13 - Wawona Old Stagecoach Road
After the presentation, autographed copies of Tony's two books on hiking those historic Yosemite Trails will be available.
For more event information you can go to the Yosemite Sierra Visitors Bureau website at http://www.yosemitethisyear.com and for more information on the Yosemite Grant 150th Anniversary go to http://www.nps.gov/yose/anniversary.
-###-