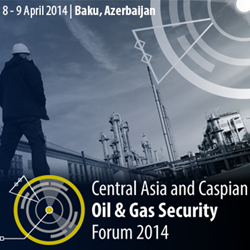 ...it's an IRN Summit.
(PRWEB UK) 1 April 2014
The Deputy Director of Economic Security from the Department of Internal Security at KazMunayGas EP, one of the most prominent oil producers in Kazakhstan, will present on ensuring the security of strategic oil and gas objects and successfully mitigating potential tension with local communities.
IRN is also delighted to welcome on board the Security Director of TANAP as a speaker. This consortium (SOCAR, TPAO and BOTAS) is responsible for the new natural gas pipeline project between Azerbaijan and Turkey. The Regional Security Advisor for Maersk Oil will also speak on the first day of the conference on "Implied security during conflict".
The Operations Security Manager for BP's offshore and onshore activities and the General Manager for SOCAR Security Turkey will join a highly topical panel discussion on the second day of the meeting. The panel will address issues around "Improving the security of teams, assets and infrastructure through greater information sharing and communication with industry peers."
Other key security experts speaking at this forum include the Head of Security for North Caspian Operating Company (NCOC), the Cluster Security Manager for Russia, Caucasus, Central Asia, Belarus for ABB Russia, the Director of Group Security for MOL Group and the Regional Director, Security & Crisis Management at GE Oil & Gas, to name a few.
Governmental Officials and senior level representatives will be come from Amarante, AVENCOM, Azerbaijan Diplomatic Academy, Azerbaijan South Caucasus Pipeline (AZSCP), Baker Hughes, Embassy of the United Kingdom, Ministry of Energy of Azerbaijan, Ministry of Oil and Gas Kazakhstan, Caspian Strategy Institute, Checkmarx, Chevron, China National Petroleum Corporation, DSIT Solutions, Elta Systems, Georgian Oil and Gas Corporation, KMGEP – Kazmunaygas Exploration Production, Maersk Oil, Optasense, OSCE - Oragnisation for Security and Collaboration in Europe, Radio Barrier, Rafael Advanced Defence Systems, Selex-Es, Sharyn Gol JSC, Tengizchevoil, Tethys Petroleum Limited, Rompetrol Group, UNDSS - United Nations Department of Safety and Security, Waterfall security solutions, Socar Security Turkey and many others.
The Central Asia & Caspian Oil & Gas Security Forum is organised by IRN and sponsored by DSIT, Avencom, Elta Systems, POLUS-ST, Waterfall, Checkmarx and Rafael Advanced Defense Systems. The Israel – Azerbaijan Chamber of Commerce and Industry is supporting officially the forum.
More information can be found on the website http://www.caoilgassecurity.com.