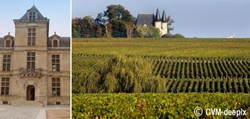 Nanuet, NY (PRWEB) March 31, 2014
The world's largest wine tourism attraction kicks off on the banks of the Garonne river in Bordeaux, France on June 26, 2014. This four-day event will showcase "vintage" Bordeaux - the wine, the food and the culture of this impressive region in France.
Over 300,000 visitors attend this wine festival making it a not-to-be-missed event each summer. While you are there you can experience the beauty of this city, the surrounding vineyards and the outstanding products from the region - including of course, the wine! Each night there are other exciting events to experience as well including the Bordeaux Music Festival, the Sound and Image Show and the International Festival of Pyrotechnics.
In addition to being known for its delicious wine, the region is rich with interesting sites and history dating back to the third century when Bordeaux was a prosperous Gallo-Roman city, making it one of France's most exciting destinations. Enjoy the Renaissance mansions, art museums, cathedrals, 14th century castles, medieval fortresses, and much more during your visit.
Make this event even more stimulating by taking a river cruise down the Garonne river.