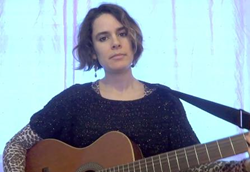 (PRWEB) March 28, 2014
Maria starts off this easy beginner acoustic guitar lesson by explaining what chords are used in the song which are; D, A, Bm and G, all of which are played in the open position. "This is a classic tune and is very straight forward to play", says Lua. Maria explains the strumming as been done with all down strokes, played as eighth notes and counted as 1 & 2 & 3 & 4 &, played once for each chord. Maria continues this very easy acoustic guitar lesson by performing the song so even the novice guitarist can play along with her and get the timing and rhythm locked in. Complete chord charts and guitar TAB's are available for this easy beginner acoustic guitar lesson at SongTabs.com.
U2 is an Irish rock band formed at the Mount Temple Comprehensive School in Dublin Ireland in 1976 while the members were still teenagers with very little musical skill. They released their debut album Boy in 1980 and were a top international touring act by the mid 1980's but did not have much commercial album sales until 1987's The Joshua Tree. Over the course of their career they have released 12 studio albums and have sold over 150 million records world wide and have won 22 Grammy awards. There 2009-2011 tour called U2 360° Tour was the highest attended and grousing tour in history.
Maria Lua
Is a folk inspired singer, songwriter, musician and performer, using melody and lyrics to uplift and motivate her audience. At the end of 2012 Maria and her band descended on professional recording studio Shrunken Heads Studios to record 4 songs for her upcoming E.P. "Free Spirit."
About SongTabs.com
SongTabs.com is a great online resource for learning to easily play your favorite songs on the guitar. With several great instructors and a constant growing catalog of songs, everyone can learn to play their favorite songs.