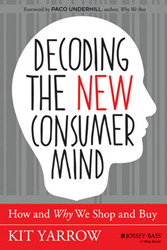 San Francisco, CA (PRWEB) April 02, 2014
The essential action plan for marketers on how, when, and why today's radically transformed retail consumer shops and buys
"In the world of shopping, Decoding the New Consumer Mind will make waves. This important book explains it all, uncovering where we are going and showing how individuals and companies can advance their offerings as well as their bottom lines." —from the foreword by PACO UNDERHILL, CEO, Envirosell, and author, Why We Buy
A decade of swift and stunning change has profoundly affected consumer psychology, and consequently how, when and why people shop and buy. Not only are social media and online engagement driving a dramatic shift in marketing methods, but a trifecta of factors has changed the fundamental behavior and decision-making processes of consumers in the retail environment—a fact all marketers should take into consideration.
Dr. Kit Yarrow, the award-winning and nationally-recognized consumer research psychologist, releases her latest book, Decoding the New Consumer Mind: How and Why We Shop and Buy (Jossey-Bass; 978-1-118-64768-4; April 2014; $27.00) and offers insights about the new motivations and behaviors of today's shoppers and takes marketers where they need to be today - into the deeply psychological and often unconscious relationships that people have with products, retailers, marketing communications and brands.
Drawing on hundreds of consumer interviews and shop-alongs, Yarrow reveals the trends that define our transformed behavior today. Decoding the New Consumer Mind explains how three sociocultural forces are transforming shoppers:

Rewired Brains: More important that what we do with technology what it's doing to us. We literally think differently – for example, we crave more intensity, have less tolerance for complexity and gravitate toward visual images over words. Our use of technology has changed our relationships, motivations and decision-making processes.
"Isolation and Individualism": Despite a deluge of social media contacts, research shows that we feel more isolated. This is compounded by record-low levels of trust in nearly every type of establishment. As a result we're more "me"- oriented, wary and self-protective shoppers.
Intensified Emotions: Though still optimistic, today's consumers are also more stressed, anxious and angry than ever before. Option overload, the velocity of change, and increases in rudeness and narcissism have all contributed. Among other things, the more emotional shopper wants control, simplicity, and immediate emotional benefits.
Decoding the New Consumer Mind provides marketers with practical ways to tap into this new consumer psychology. Yarrow shows how to combine technology and innovation to enhance brand image; win love and loyalty through authenticity and integrity; put the consumer's needs and preferences front and center; and deliver the most emotionally intense, yet uncomplicated, experience possible.
Grounded in Yarrow's award-winning research on consumer psychology, Decoding the New Consumer Mind provides rich examples of these shifts in action in the marketing strategies and consumer behavior seen by major firms and brands, many of whom are Yarrow's clients, including: Kleenex, Desigual, Kraft Foods, eBay, Hershey's, and many more.
About the Author:
KIT YARROW, Ph.D., is an award-winning consumer research psychologist, professor, consultant, and keynote speaker. She chairs the psychology department at Golden Gate University, with a joint appointment as a professor of psychology and marketing, and was recognized as the university's 2012 Outstanding Scholar. Kit writes for Time and Psychology Today. She is also the coauthor of Gen BuY: How Tweens, Teens, and Twenty-Somethings Are Revolutionizing Retail (Jossey-Bass, 2009). Kit is regularly quoted in a variety of media, including the New York Times, the Wall Street Journal, Marketplace, USA Today, and Good Morning America. She lives in the San Francisco Bay Area. For more information, please visit http://www.kityarrow.com .