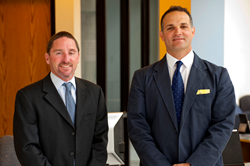 I am very excited about the hiring of Billy Martin and Damon Solomon as the new head coaches for men's and women's soccer here at Rose State.
Oklahoma City, Oklahoma (PRWEB) March 30, 2014
Athletic Director Joey DaVault said former Oklahoma City University assistant soccer Coach Billy Martin will be head coach of the men's team, while former Neosho County Community College women's coach Damon Solomon will begin his first season as head coach of Rose State College's women's soccer team.
DaVault said both coaches are proven winners who will quickly develop competitive teams, beginning this fall.
"I am very excited about the hiring of Billy Martin and Damon Solomon as the new head coaches for men's and women's soccer here at Rose State. They bring with them almost 30 years of high school, college and professional soccer club experience and are widely respected in the coaching ranks," DaVault said. "We had great interest in these positions. It was a difficult decision but these two are quality coaches and quality men who will build great programs in the future."
Both coaches have begun work at the college and are actively recruiting for the Raiders.
Biographies:
Damon Solomon was the head women's soccer coach at Neosho County Community College for six seasons. In his time with the Panthers, Coach Solomon had guided the Neosho Women's Soccer to five straight quarter-finalists in the Region VI Tournament. He also set a school record for most regional wins during a season. He placed 22 players in the last five years to NAIA, NCAA Division II and Semi-Professional teams. Solomon was also the trainer of the Topeka Select Rockets (2007), served as a Head Coach at Wichita Heights (2006-2007) and Trinity Academy (2004-2005) from 2004-2007. Coach Solomon received his Bachelor of Science degree from Cameron University earned a Masters in Science from Pittsburg State University. Solomon holds a National Soccer Coaches Association of America (NSCAA) Advanced National Diploma as well as a United State Soccer Federation (USSF) Coaching License.
Billy Martin started coaching youth soccer in 1990 with the Oklahoma Football Club. Martin led the OFC in 1992 to the Oklahoma Premier League championship in 2008. That team also won the state championship, finished runner-up in the Southwest Premier League and reached the quarterfinals of the regional tournament. Martin then served for 18 seasons under Oklahoma City University soccer head coach Brian Harvey, assisting for seven men's and eight women's Sooner Athletic Conference Championships and District Nine championships. In 2010, Martin was named the Oklahoma Soccer Association state boys competitive youth coach of the year. A native of Grapevine, Texas, Martin played for Oklahoma Heat teams in the U.S. Inter-regional Soccer League from 1993-96. Martin earned a bachelor's degree in business from OCU in 1991.
About Rose State College:
Rose State College offered its first classes on September 21, 1970. As a public, open admissions, associate degree granting institution, Rose State College provides higher education preparation for lifelong learning through programs and services designed to serve a diverse community. The college is located just minutes away from downtown Oklahoma City, and right off Interstate 40 and Hudiburg Drive. The campus includes twenty-five buildings on approximately 120 acres.