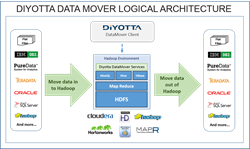 Diyotta was very easy to deploy. We were operational in less than a day and developing workflows 10 times faster than hand-crafted code. -Clarity Project Manager
Charlotte, NC (PRWEB) March 30, 2014
Today Diyotta announced the addition of a new product to their portfolio. Diyotta DataMover is an intuitive and easy to use tool built to develop, monitor and schedule data movement jobs to load into Hadoop from disparate data sources including RDBMS, flat files, mainframes and other Hadoop instances. DataMover enables users to graphically design data import or export jobs by identifying source objects and then schedule them for execution.
Diyotta DataMover eliminates the need to develop scripts by providing out-of-the-box functionality to perform data movement tasks. Ideal for both technical and non-technical users including data scientists, business analysts and power users.
Diyotta DataMover is purpose-built for big data platforms with a lightweight, metadata-driven and easy to use development environment. The solution provides direct data movement from source to target systems, eliminating the need for intermediate ETL servers, significantly reducing costs and providing a high degree of scalability. The solution deploys in minutes and users can immediately begin designing data movement jobs to move data in and out of any Hadoop distribution.
Diyotta DataMover makes it easy to move data between Hadoop and a variety of sources including flat files, streams, EBCDIC files, Netezza, IBM DB2, Oracle, Teradata, SQL Server and other databases. Supported Hadoop distributions include IBM BigInsights, Cloudera, Hortonworks, Pivotal HD and MapR.
Diyotta's flagship product, the Diyotta Data Integration Suite, is leapfrogging conventional ETL tools by giving you the ability to readily integrate data across your enterprise friction-free, delivering high value information where it's needed most to rapidly enable critical insights for strategic and competitive advantage with significantly less cost, effort and delays than ever before.
Diyotta Data Integration Suite 3.0 is an innovative and revolutionary data integration platform purpose-built for Massively Parallel Processing Data Warehouse appliances and distributed processing platforms such as Netezza, Teradata or Hadoop, allowing you to fully leverage the power of these systems with true in-the-box processing, giving you vast performance gains in your data integration activities.
Our Diyotta Data Integration Appliance and browser-based client speeds deployments, reduces administrative and operational overhead, and provides a central support point for the overall solution, providing maximum ROI for your analytic environment.
About Diyotta
Diyotta enables companies of all sizes to accelerate time to value of their data assets for BI reporting and analytics by fully leveraging the power of MPP data warehouse appliances and Hadoop through a feature-rich, intuitive and high-performing big data solution, the Diyotta Data Integration Suite. Diyotta provides a fully-integrated, modular platform to optimize and automate data integration through a unique frictionless approach to data movement, simply extracting, compressing and moving source data directly to your warehouse or Hadoop systems, leveraging the target platform as the transformation engine.
Established in 2011, Diyotta Inc. is a privately funded venture headquartered in Charlotte, NC and has offices across North America and Asia Pacific.
For more information, please visit us at http://www.diyotta.com reach us by phone at +1-888-365-4230.