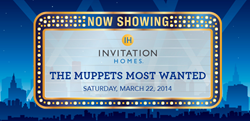 Thank you for giving us the opportunity to go see "Muppets Most Wanted." We thoroughly enjoyed the movie and greatly appreciate you as our rental company.
Dallas, Texas (PRWEB) March 31, 2014
Invitation Homes, the nation's leading provider of high-quality homes for rent, treated its residents throughout the country to a complimentary screening of the new movie Muppets Most Wanted.
Delighting thousands of families, the morning private screenings further solidified Invitation Homes' commitment to residents by offering unique events and offers not typical of a property management company.
In all, the movie was screened for Invitation Homes residents in 34 locations from Florida to Chicago to California. The first 25 people who registered for the screening and arrived at each theatre location dressed as their favorite Muppets character won a prize.
"Thank you so much for the thoughtful and kind gesture of inviting us to the Muppet Movie," said Charisse Rawn, an Invitation Homes Tampa resident. "Just wanted you to know how much we appreciate all the fun things you do for us, in addition to the great care you give consistently!"
This is the second time Invitation Homes has offered a complimentary movie to their residents. In November of last year, residents in select cities were ecstatic to be treated to a private opening night screening of The Hunger Games: Catching Fire.
About Invitation Homes
Founded in 2012, Invitation Homes leases single family homes in 14 regions across the country. Since it began, Invitation Homes has purchased more than 40,000 houses, making it the leader among single-family homes for rent companies in the U.S. Based in Dallas, Texas, Invitation Homes offers a high-quality rental experience that includes professional property management, an online portal for rent payment and a friendly policy toward pets. For more information, visit http://www.ihrent.com.