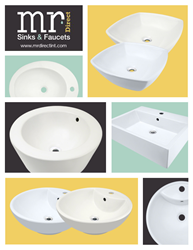 All of these porcelain sinks can be beautifully accented with the appropriate MR Direct faucet and pop-up drain styles.
Toledo, OH (PRWEB) April 01, 2014
MR Direct is extremely proud to announce the debut of five exciting new vessel-style sinks into its already extensive line of porcelain basins. Second only to stainless steel, porcelain has always been a very popular choice in the sink market. Due to this mass appeal, MR Direct had decided long ago to continually expand its porcelain offerings. The current addition of these five new styles, which are available in a choice of a white or bisque finish, has increased the MR Direct porcelain collection to a staggering ninety-seven choices.
These new models are designed to accommodate the consumer who may have admired a particular style, but found it too small or too large for his needs. Therefore these five vessels are modeled after existing MR Direct porcelain sinks, but with new dimensions. Careful consideration was given to the feedback received from customers who pointed out reasons why one style or another would be perfect if only it were wider, deeper, shallower, etc. This, and an in-depth review of design trends, led the MR Direct team to choose to introduce these particular re-sized models. Further, a conscious decision was made to offer sinks with a variety of features; so some of these new designs have pre-drilled faucet holes, some have overflows, and some are simple solid basins.
For the consumer who wants a choice of matching a vessel sink with a single-handle or a vessel-style faucet, the v2502, v2720, and v3202 are being offered with pre-drilled faucet holes. Two sinks, the v1802 and v1902, are solid basins which need to be paired with tall vessel faucets. Additionally, three of these bowls, the v1902, v2502, and v2702 have overflows for use with a stopper. All of these porcelain sinks can be beautifully accented with the appropriate MR Direct faucet and pop-up drain styles available in chrome, burnished nickel or oil-rubbed bronze finishes.
All MR Direct porcelain sinks, are made of vitreous China, the superior grade ceramic in the industry. The triple glazing and triple firing involved in making vitreous China results in the most durable, smooth and stain-resistant finish available.
Complete information about these new porcelain vessel sinks, as well as any other MR Direct sink or faucet product, can be thoroughly reviewed by visiting MRDirectint.com.