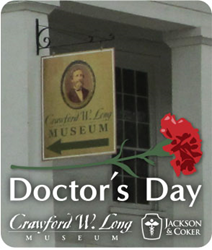 Doctor's Day and Dr. Long's legacy serve as reminders of the debt society owes its physicians. Their contributions and sacrifices are often overlooked in today's tumultuous healthcare environment. -- Sandra Garrett, President, Jackson & Coker
Atlanta, GA (PRWEB) March 28, 2014
National Doctor's Day is celebrated on March 30th in honor of the day Dr. Crawford W. Long performed the first surgery with the aid of anesthesia. This year, Atlanta staffing firm, Jackson & Coker, accompanied Crawford W. Long Museum volunteers in presenting physicians with red carnations.
"The story behind Dr. Long's discovery of ether as an anesthetic is fascinating," said Sandra Garrett, president of Jackson & Coker.
In the 1840s, nitrous oxide and ether were commonly used in parties, called 'frolics.' It was during these parties that Dr. Long discovered that those under the influence of ether felt no pain when injured.
On March 30, 1842, Dr. Long performed what is considered the first surgery aided by anesthesia. Ninety-one years later, in 1933, the first Doctor's Day observance was held in Barrow County, Georgia due to the efforts of Eudora Brown Almond, a local physician's wife.
As part of its National Doctor's Day celebration, Jackson & Coker produced a video for physicians sharing Dr. Long's story.
"Doctor's Day and Dr. Long's legacy serve as reminders of the debt society owes its physicians," said Garrett. "Their contributions and sacrifices are often overlooked in today's tumultuous healthcare environment."
To learn more about Dr. Crawford W. Long, visit the museum's site at http://www.crawfordlong.org.
To watch Jackson & Coker's video tribute to Dr. Long and physicians, visit: http://www.jacksoncoker.com/cmscontent/National-Doctors-Day.html
ABOUT JACKSON & COKER (http://www.JacksonCoker.com)
For over three decades, Jackson & Coker, a leading locums and permanent placement physician employment firm, has provided hospitals and group practices with doctors for a day, a lifetime, or any of life's changes in between. The firm ensures that both patients' needs and physician career goals are met by uniting doctors with the hospitals and medical facilities that hire them.
The physician recruitment company has earned a national reputation for placing exceptionally qualified doctors in commercial and government practice physician job opportunities. Recruiters work in two divisions: Permanent placement, which recruits doctors in over 40 medical specialties for permanent physician jobs, and locum tenens, a staffing model that recruits physicians for temporary doctor jobs. With a broad range of physician staffing experience in all specialties including psychiatry jobs, hospitalist jobs, internal medicine jobs, surgery jobs, family practice jobs, anesthesia jobs and radiology jobs, Jackson & Coker specializes in jobs for physicians at any stage of their professional career.
ABOUT CRAWFORD W. LONG MUSEUM
The Crawford W. Long Museum in Jefferson, Georgia, provides educational exhibits about the life and career of Dr. Crawford W. Long, the physician who, on March 30, 1842 first used ether for surgical anesthesia. The Gallery takes you on a journey through Dr. Long's life, from his exceptional education, to his early days as a physician and his discovery of the first anesthetic, through the days of the Civil War and Reconstruction. Learn more at http://www.crawfordlong.org/.