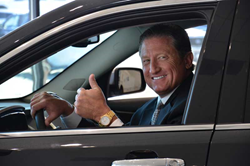 Buick is attracting young luxury buyers. -- Scott McCorkle, Liberty Buick GMC
Charlotte NC (PRWEB) March 29, 2014
Liberty Buick GMC is opening their doors in April sponsoring "The People's Test Drive Event" – to bring in the buyer that just might not consider a Buick because of a certain bias. "We believe that once you sit in a Buick and take a test drive, you'll be convinced that the 2014 Buick models have truly changed, and not in a small way," said Scott McCorkle, owner of Liberty Buick GMC.
The automobile industry, including Buick, has made many changes to car in the last 30 years. Take for instance the Buick Regal. Buick has given the model a complete facelift targeting the performance and luxury car buyers with great success.
"The difference is in the quality of the drive," says Scott McCorkle. "The older model Buick's were cruisers, not very responsive, didn't handle very well, and even worse on fuel economy. But that was 30 years ago. The 2014 Regal brings a whole new dimension to driving. This car is fun to drive because of its performance and handling, it feels solid and very capable. That's why everyone is invited to a come in and take a test drive so that they can experience this new Buick for themselves," he added.
GM has succeeded in bringing a more upscale and contemporary look to their 2014 models by just accentuating a lower, more wide bodied look. These new body designs include a more high tech look to their LED daytime headlights and wing-shaped LED tail lights.
For additional power and style, McCorkle encourages people to test drive the 2014 Buick Regal Turbo AWD model, fast becoming popular in the young professional demographic. Striking a European balance of sport and luxury, the Regal boosts a new engine - a 2.0 liter four cylinder with a twin-scroll turbo-charger, direct injection, 250 horsepower and 295 lb-ft of torque.
Liberty Buick GMC "People's Test Drive Event" event will run from now through the middle of April. When taking a test drive McCorkle encourages people to look for a number of things when behind the wheel. "First, ask yourself am I comfortable? Then pay attention to how the care handles and performs both on highways and on back roads.
Scott McCorkle agrees that Buick is attracting young luxury buyers with new models like 2014 Buick Regal. With engineering changes including a new direct-injected 2.0-liter turbo charged four cylinder and 259 horsepower, it now competes and out performs many of the European luxury sedans.
Liberty Buick GMC is located at 9028 East Independence Blvd. in Charlotte. Start you search online at http://www.clickliberty.com or call (704) 321-4366.