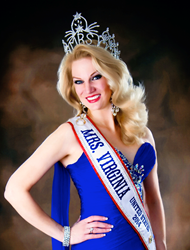 It's my goal that we reach out to low-income women and those who can't otherwise afford the care they need and help them get it.
Midlothian, VA (PRWEB) March 28, 2014
Autumn-Skye Boothe, a veteran community service advocate and professional event emcee, has been crowned 2014's Mrs. Virginia United States, and will compete for the Mrs. United States title July 20th-25th at the Southpoint Hotel & Casino in Las Vegas, Nevada, celebrating the achievements of modern married women. She is the happily married wife of Carl Boothe and mother of Audrey Alanna Port, VCU's reigning Miss Minerva 2014. She and Alanna are both members of the Iota Sigma chapter of the Alpha Xi Delta organization.
A Susan G. Komen Community Educator and recipient of the 2012 President's Bronze Volunteer Service Award, Autumn-Skye will compete this summer at the Mrs. United States pageant with representatives from each state, Guam & the Virgin Islands. The United States pageant was begun in 1986 and is now entering its 27th year of production, scoring its winners equally in the areas of personal interview, swimsuit and evening gown with an onstage question further scoring each of the top 10 on-stage finalists.
"Finally holding this title is a dream come true for me as I had been a local titleholder and state finalist in the Virginia pageant several times, so I am glad I never gave up!" says Boothe. "I didn't because the ideals of the pageant are closely aligned with my own, which emphasize the combination of both intellect and beauty together. The time I've spent competing has helped me develop skills which led to not only serving as a director with a non-profit that I love, but also career success as well. I'm excited and honored to be Mrs. Virginia this year and hope to serve as an inspiring role model to other women that dreams do come true... despite physical challenges, setbacks or just even being over 40," said the Mrs. Virginia United States. Boothe is 42 years old and a breast cancer survivor of over twelve years.
Autumn-Skye plans to promote her work with non-profit rescue Rikki's Refuge of Orange, VA along with her ongoing service working with breast cancer awareness as a survivor herself and the daughter of one. Her story is truly inspiring:
"When I was first suspicious and found a lump in my breast, I was a single mother of a 7 year old. My insurance wouldn't cover the $800 mammogram to check out what later was found to be a cancer tumor... and I didn't have the money. Fortunately for me it was caught early, but being unable to afford the care I needed could have cost me my life had it not been for friends who helped raise the money and insisting I be pro-active. No one should find herself in that position and it's my goal that we reach out to low-income women and those who can't otherwise afford the care they need and help them get it."
For more information on the Mrs. Virginia United States pageant, or for booking Autumn-Skye for an upcoming event or speaking engagement, please contact Majestic Productions USA at (804) 928-8125 or visit her official Facebook page at http://www.facebook.com/MrsVAUnitedStates2014.