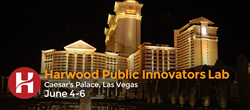 We need more public innovators – people with the know-how to drive change and make communities work.
Bethesda, MD (PRWEB) March 31, 2014
The Harwood Institute for Public Innovation will host a learning program June 4-6 in Las Vegas, Nev. to help leaders across the country more effectively tackle public problems and move their communities forward.
The Harwood Public Innovators Lab is designed to train people to tap into their innate desire to be public innovators – leaders who move their communities forward. They come from nonprofits, business, government, the media and educational and religious organizations. The lab will guide participants in areas such as identifying community issues rooted in people's shared aspirations, building public will for action and developing strategies that align with their communities.
"We need more public innovators – people with the know-how to drive change and make communities work," said Richard Harwood, founder and president of The Harwood Institute, a national nonprofit in the Washington, D.C. area that teaches and coaches people and organizations to solve pressing problems and change how communities work together.
The institute has set a bold goal to train 5,000 public innovators by 2016 as part of its Reclaiming Main Street campaign. The institute also aims to create a 100,000-person Public Innovators Corps. Read Harwood's blog post about the campaign.
The lab will take place at Las Vegas' Caesar's Palace. For more information and to sign up, click here or contact Andrew Willis at awillis(at)theharwoodinstitute(dot)org or 301-656-3669.
Harwood's transformational work has spread to thousands of communities nationally and worldwide - from small towns to large cities - through concrete methods he created and has honed for more than 25 years. In 2013, he facilitated a task force in Newtown, Connecticut in coming to an unanimous decision on the fate of Sandy Hook Elementary, where 26 children and adults were killed in December 2012.
A visionary with the ability to help people identify obstacles and tap into their aspirations, Harwood has inspired hundreds of audiences as he shares his philosophy of what it takes to be relevant and connected in today's world. A prolific author, his books include "The Work of Hope: How Individuals and Organizations Can Authentically Do Good"; "Hope Unraveled"; and "Why We're Here: The Powerful Impact of Public Broadcasters When They Turn Outward."
Harwood also has written numerous studies and articles that chronicle the most vital issues of our time. He has appeared on national media including MSNBC, NPR, CNN's Inside Politics, The NewsHour with Jim Lehrer, Special Report with Brit Hume, C-SPAN, CNN's The Don Lemon Show, German Public Radio, China Central TV and Voice of Russia Radio.